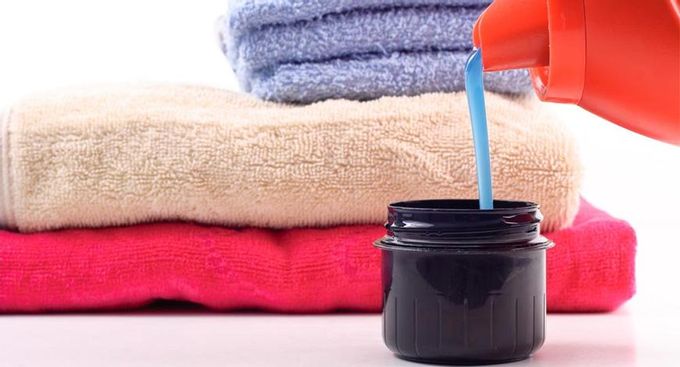 Gone are the days when clothes were washed in the river without any detergents. Modern housewives have a whole arsenal of laundry products in the house.
At the same time, not everyone knows what a fabric softener is for. Therefore, either they use it incorrectly, or they do not acquire such a wonderful tool at all.
How to use, what is needed, and what is fabric softener?
If you have not yet figured out whether you need fabric softener or not, try to learn more about this tool.
1) What kind of product is this - fabric softener?
The task of granular or liquid laundry detergent is to keep things clean. But this tool, unlike the conditioner, does not perform other functions: softening, flavoring, and the like.
Fabric softener is a product that is added either to the washing machine in a special compartment, or to the rinse water if you wash by hand.
My friend, the mother of a six-month-old baby, even cleans children's clothes exclusively with air conditioning. He says: not a single, even the most environmentally friendly and gentle product, makes the crumbs' clothes as soft and smelling delicious as air conditioner.
The main component of almost all air conditioners is surfactant. These are surfactants that form a kind of protection on the surface of the fabric. Accordingly, things will get dirty much less. Yes, and the pellets will not form.
Air conditioners contain other important components.
| Component | Explanation |
| --- | --- |
| Silicone | It is he who has a softening effect on fabrics, making them more pleasant to the touch. |
| plant extracts | They perform different functions: they remove roughness from the surface, soften the fabric, etc. |
| Flavors | In good conditioners, these are essential oils. It is they who give the washed linen a delicate aroma. |
Of course, cheap conditioners do not contain essential oils and plant extracts. They contain harmful artificial ingredients that can harm the skin.
TOP 4 options for eco-friendly sponges for washing dishes
2) How to use fabric softener correctly?
In principle, figuring out how to use fabric softener is not difficult, because there is an instruction on each box or bottle. Just follow her.
But still, there are a few general rules that should be followed by those who have never used fabric softener before:
When buying a new remedy, always read the instructions to find out the optimal dosage.
Remember that there are concentrated conditioners, the consumption of which is several times less than conventional ones.
Do not increase the dose yourself - the effect will not become stronger, but clothes can be ruined.
Add conditioner to the appropriate section of the washing machine - the technician knows at what stage to use it.
Of course, the hostess herself must decide whether she needs fabric softener or not. Using this tool has both advantages and disadvantages.
| Advantages | disadvantages |
| --- | --- |
| Performs many useful functions - softening, flavoring, antistatic, etc. | Additional expenses, since a good air conditioner is not cheap. |
| Keeps things in good condition longer. | Not suitable for all fabrics, for example, silk can ruin. |
| Makes washing easier. | Excessively concentrated preparations can cause allergies. |
Why do you need fabric softener: 5 answers to this question
There are two opposite opinions about fabric softeners. Some housewives are convinced that washing is impossible without them. Others are sure: it's a waste of money.
Here are 5 answers to the question "What is fabric softener for?":
Fabric softening.
Bed linen, towels, cotton T-shirts, linen items after washing become rough and not very pleasant to the touch. Especially if they are also washed in hard water. If you want all of the above to be soft and comfortable to use, be sure to add fabric softener to your washing machine.
Antistatic effect.
Fabrics, which contain synthetic threads, stick to the body, electrify the hair and can even hit with a "current". It's just that charges accumulate in synthetics, which then cause a lot of trouble. The task of the air conditioner is to create an antistatic effect. This function is especially important in winter when indoor air is dry.
Protection.
The fact that the conditioner prevents the formation of pellets has already been discussed. In addition, the active components of the product protect the color of the thing. So in any case, using conditioner during washing, you can wear your favorite things longer.
Aroma.
Agree, wearing clothes that smell good after washing is wonderful. Even the best powder does not scent clothes. But the air conditioner - easily.
Easy ironing.
If you are not too fond of ironing clothes, then you can make this work easier for yourself with the help of an air conditioner. Firstly, it prevents the formation of creases on the linen. Secondly, it softens the fabric, which means that during ironing you do not have to steam the sheet or towel.
Important: Fabric softener also performs a number of other functions: it speeds up the drying of things due to water-repellent properties, helps to restore the shape of clothes that have slightly sat down during the previous wash, etc.
Fabric softener must be chosen correctly
Often women who believe that they do not need air conditioning for nothing, or have never used this product at all, or have had an unsuccessful experience of using it.
In order not to be disappointed in the air conditioner the first time, you need to carefully approach its choice.
TOP 5 ideas on how to wash your hands instead of soap
1) How to choose the best air conditioner?
There is no universal laundry detergent that all women would like, without exception. Each hostess, through experiments, chooses an air conditioner to her liking.
Here are 3 tips to help you make the right choice:
Don't cheap out.
A high-quality and safe product cannot cost a penny. If you can't afford a more expensive product, it's better to stop using the conditioner altogether. Otherwise, harm your health and ruin your clothes.
Pay attention to composition.
The more natural it is, the better the remedy. But you definitely shouldn't buy a conditioner that contains chloroform, benzyl acetate and terpineol.
Smell the product before buying.
Yes, we expect a pleasant fragrance from the conditioner, but if it is too harsh, it will irritate the clothes as well. In addition, such smells are created only artificially.
And also look at the container in which the fabric softener is packed. It should have a convenient dispenser so that you do not make a mistake with the amount of product used.
Would you like to learn how to make fabric softener at home? In this video you will find a recipe for a safe and effective remedy created from improvised ingredients:
2) TOP 7 fabric softeners
When choosing a tool, it is best to focus on reviews: both from acquaintances and from Internet users.
Another way not to miscalculate with a choice is to look at the rating of a particular product in an online store. If a product has a high rating, then buyers take it more often than others.
TOP 5 products to soften the water for bathing a child
Here are the TOP 7 air conditioners that will not disappoint.



Fabric softener, Geranium, 32 fl oz (946 ml)









ATTITUDE, Kids Series, Fabric Softener, Sweet Dreams, 40 Loads, 1 L








ATTITUDE, Fabric Softener, Unscented, 33.8 fl oz (1 L)





Now you know exactly what fabric softener is for, and you will certainly not ignore the use of this wonderful product. Just find the product that suits you in all respects.