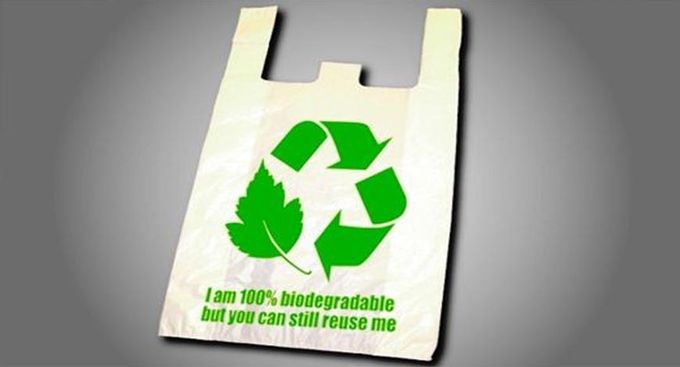 Every day, people throw away millions of disposable bags that have not rotted for decades.
Is there an alternative? Yes! Starch bags.
Biodegradable starch bags: what is it?
If you really care about the environment, you should learn more about biodegradable bags - what material and how they are made.
1) Starch and other environmentally friendly materials
In the 90s, plastic bags were still a rarity. Therefore, they were used repeatedly, and therefore washed and dried.
Today, we do not limit ourselves in the consumption of bags, boldly packing almost every fruit and vegetable in a film. Yes, it is convenient, but not safe for our planet.
Experts have calculated that, on average, every adult uses 3 plastic bags a day, which then end up in a landfill, where they do not rot for decades. And when they nevertheless begin to collapse, then small particles of plastic poison everything around: soil, water, our lungs, etc.
The most conscious citizens are trying to limit the consumption of polyethylene. My friend Sonya switched to eco-bags a long time ago. She goes to the supermarket with a dozen cloth bags and weighs vegetables, fruits, cereals right in them. He puts his purchases at the checkout in a large bag.
And even found an alternative to garbage bags. Instead of conventional ones, it uses biodegradable ones.
There are 2 main types of biodegradable bags:
Oxydegradable. The usual plastic for us, but with the use of additives that allow the package to decompose within one year. The disadvantage of such bags is microparticles, which still pollute the environment and harm our health.
Compostable. For their manufacture, natural materials are used, most often corn or potato starch. Decaying, such a package simply becomes part of the humus.
Which are more useful? Certainly the second. But if you really have to choose between ordinary bags and oxi-degradable bags, then you should choose the second option. And that's why.
2) Starch bags: production features
Since starch bags are recognized as the safest for the environment, we will talk about them in more detail.
Such packages are rapidly conquering the market, therefore they are made in all civilized countries, including Ukraine and Russia.
Most often used in the manufacture of corn starch.
The main raw material is PLA granules. These granules are obtained from corn kernels. First, the grains are poured with boiling water with sulfur dioxide so that the raw material breaks down into three substances: fiber, protein and starch.
Then the starch is extracted and citric acid is added to it to obtain polymers, which are then compressed into a complete package.
As you can see, even the process of making such a bag is quite environmentally friendly, but its main advantage is that it completely decomposes, leaving not a single harmful particle behind.
Important: potato starch is also used to make bags. About 10 bags are obtained from one large tuber.
The decomposition time depends on the conditions in which the package was found. In fact, the ideal temperature is +70 degrees Celsius and high humidity. But even if you throw away the starch bag, it will dissolve into the soil, it just takes more time.
| | Industrial composter | Home composter | Dump |
| --- | --- | --- | --- |
| Decomposition time | 1 month | 6 months | 12 months |
Although many manufacturers claim that their products decompose in 45-60 days, regardless of temperature and humidity.
In any case, starch bags will rot sooner or later, so you can safely just throw them away without building a composter at home. And there will be no more harm from them than from a discarded corn head.
TOP 4 options for eco-friendly sponges for washing dishes
Advantages and disadvantages of garbage and household starch bags
It is difficult for even the most ardent eco-activists to do without bags in everyday life. That is why, if they buy bags, then they are made of starch. But even these relatively secure packages not only have clear advantages, but also some disadvantages.
| Advantages | disadvantages |
| --- | --- |
| Completely decompose in the soil, serving as a fertilizer for it. | They are not cheap. For a package of 30 pieces of starch bags, you will have to pay an average of 200 rubles. Whereas regular trash bags are three times cheaper. |
| Absolutely safe for the environment. | Irrational use of food. Millions of people on our planet are starving, so it's a little sacrilegious to use corn, soybeans and potatoes to make trash bags. |
| They are produced in almost all countries, so it will not be difficult to buy them. | Not suitable for storing food or some things, as they quickly begin to decompose. |
| Simple and easy to use just like regular packs. | Any production, even the most environmentally friendly, leaves a mark on the planet. |
| Safe for human health, therefore, placing products in them, you can definitely be sure that plastic will not enter your body. | Starch packets should be stored in a cool, dry place. Yes, and for the future they will not be able to stock up. |
The production of polyethylene, oxydegradable and paper bags pollutes the environment. Whereas garbage and other starch bags are made without bad emissions.
Their only drawback is the use of fertilizers in the cultivation of raw materials, but today farming without fertilizers is not complete at all.
Want to see with your own eyes how biodegradable bags are made? Then you will definitely like this video:
Where to buy bags of cornstarch?
If you buy household goods in the nearest supermarket, then the choice of environmentally friendly products in them is small. The shelves are littered with harmful plastic. The maximum that can be purchased is oxydegradable bags.
But where to buy biodegradable starch bags at an affordable price? on trusted sites.
Here are the TOP 5 products that you will definitely like both in price and quality.
Name



Biodegradable garbage bags 25/50 pcs.









Biodegradable garbage bags 25/50 pcs.









Corn biodegradable garbage bags 30 pcs.











Biodegradable bags






Starch bags - garbage, grocery and others - are an excellent alternative to conventional polyethylene. Although they are more expensive, the opportunity to save for posterity a planet that is not littered with plastic that has not rotted for decades is priceless.
Things to know (Q&A)
Which biodegradable bags are best?
Best compostable trash bags
BioBag 3-Gallon Compostable Bags (100-Count) ...
BioBag Compostable 13-Gallon Kitchen Bags (48-Count) ...
Green Paper Products 13-Gallon Biodegradable Heavier Duty Trash Bags (25-Count) ...
Aircover 8-12 Gallon Biodegradable Trash Bags (80-Count) ...
Stout by Envision EcoSafe-6400 Compostable Bags (45-Count)
Which is the best garbage bag?
Best overall trash bags
Uline Max-Flex Trash Bags, 150-Count. ...
Stout by Envision EcoSafe-6400 Compostable Bags (45-Count) ...
Aircover 8-12 Gallon Biodegradable Trash Bags (80-Count) ...
Simplehuman Code N Custom Fit Drawstring Trash Bags, 60-Count. ...
Glad OdorShield Small Trash Bags, 26-Count (Pack of 6)
What garbage bags are made in Australia?
Fresh & Green (Aust) Pty Ltd is a Family Owned and Operated Australian company which has been manufacturing New and Recycled bags and plastic since 1971.
What are biodegradable garbage bags made of?
Compostable bags are usually made from plants like corn or potatoes instead of petroleum. If a bag is certified compostable by the Biodegradable Products Institute (BPI) in the U.S., that means at least 90% of its plant-based material completely breaks down within 84 days in an industrial compost facility.
Are biodegradable plastic bags good?
Plastic bags that claim to be biodegradable were still intact and able to carry shopping three years after being exposed to the natural environment , a study has foun
What bags are biodegradable?
Plastic bags can be made "oxo-biodegradable" by being manufactured from a normal plastic polymer (i.e. polyethylene) or polypropylene incorporating an additive which causes degradation and then biodegradation of the polymer (polyethylene) due to oxidation.
Are bio bags really compostable?
The short answer: BioBags are certified compostable meaning they can be consumed by micro-organisms in an industrial setting and meet the testing specifications found in the ASTM D6400. Our bags are digested by these microbial bacteria, along with food and yard waste, to become soil or fertilizer.
How long do biodegradable bags take to decompose?
three to six months

According to BBC Science Focus, biodegradable plastics take only three to six months to fully decompose, far quicker than traditional plastic that can take hundreds of year
Is Hefty or Glad better?
The top two have other advantages. The Glad bag is advertised as using less plastic, based on thickness : Its maker says the top section is 0.95 mils thick; the rest, 0.78 mils thick. Most other bags are about 0.9 mils throughout. The Hefty bag has a stretchable drawstring to help hold it to a wastebasket rim.
What is the thickest garbage bag?
Thin garbage bags (high density) are measured in microns. Thicker trash bags (low density/linear low density) are measured in mils. Standard trash bags have a gauge ranging from 0.7-2.0 mils .
How thick should garbage bags be?
Mils Are Used to Measure Low-Density Trash Bags

7 mils to 4.0 mils . As a point of reference, the standard kitchen bag is around . 9 mil while heavy-duty contractor-grade trash bags will usually start out at 3.0 mil. Use higher mil count for heavier, larger, and more jagged trash.
What is the raw material for biodegradable plastic bags?
Although biodegradable bags could be made from a variety of natural raw materials, the most abundantly available raw material is corn .
What are garbage bag made of?
A Guide to Trash Bags

The most common form of polyethylene trash bags are made from low-density polyethylene . Some trash bags are made from high-density polyethylene for other applications. Both types of trash bags come in a wide variety of sizes and strengths.
Are biodegradable bags recyclable?
Compostable and biodegradable plastics are not currently recyclable and can contaminate the recycling process if they are placed into a standard recycling bin.