Taking care of the attractiveness of their site, rural residents, dacha owners sooner or later face a problem: in some areas the sun's rays look very rarely, and in some places they do not happen at all. Most inexperienced gardeners believe that it is impossible to grow anything here except weeds.
However, this is not entirely true. Some plants not only do not like the sun, but can also be successfully grown outdoors in shade and partial shade. Of course, the range of such crops is limited, but even among them there are luxurious specimens with lush greenery, original flowers, which allows you to create an amazing flower garden in the most secluded corner.
Shade and partial shade on the site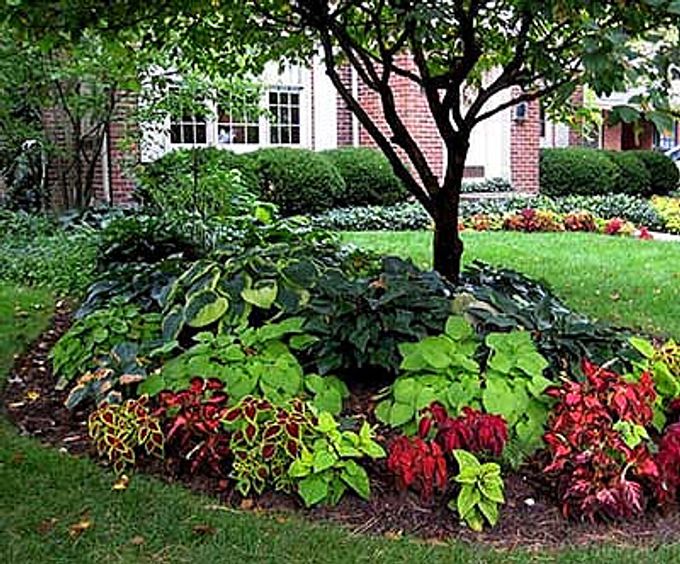 Many of the perennial flowers are, if not shade-loving, then shade-tolerant. For active growth and abundant flowering, it is enough for them that direct sunlight illuminates them for only a few hours a day. It is best if it is a morning when the sun is not yet so hot, which means that you can not be afraid that "burns" will appear on the leaves.
It is much more difficult to choose crops that can decorate those parts of the garden where the sun does not exist at all. Most often, such places are located under trees, which cover the soil surface with their dense crown from mid-spring to late autumn, preventing the access of the sun. You can, of course, plant primroses, bulbous perennials (tulips, daffodils) here. They move into growth in early spring and have time to bloom before the time when they are covered with a dense shadow. But after 1.5-2 months, they will fade, the foliage will dry up, and weeds will begin to grow rapidly in their place. But you really want each, the most remote corner of the garden, the courtyard to look decorative throughout the spring-autumn season.
The biggest difficulties arise for those "landowners" who decided to create a small "forest" on their site. Flower beds, rabatka, flower beds will look like foreign objects here, and it is not always possible to acquire a large number of expensive shade-loving perennials due to financial difficulties. At the same time, there is a fairly extensive "arsenal" of plants that grow rapidly, capturing vast areas. At the same time, many of them are unpretentious and do not require careful care, everyday attention of the gardener.
Garden plants for shade
With the help of shade-tolerant perennials, you can solve any task facing the gardener, from ennobling places in the shade of trees, buildings, fences, to decorating park areas. Almost all of the plants below can be attributed to decorative flowering crops. True, some of them have a flowering period of only a few days, while others delight with bright flowers for 2-3 weeks or more. At the same time, all have original leaves that make them attractive throughout the growing season.
Aquilegia
Anemone
astilba
Badan
periwinkle
Geichera
tenacious
Doronicum
Dicentra
Duchenea Indian
forest bell
Hoof
Kupena and lily of the valley
Cuff
Hellebore
Primrose
Fern
hosta
Varieties of aquilegia (catchment) are divided into two groups: species and varietal. The host does not require any maintenance. It reproduces by self-sowing, and if flower stalks with faded flowers are not cut off in a timely manner, then its white, pink, blue, lilac bells will soon dazzle throughout the site. Varietal aquilegia is planted in flower beds, discounts, and species aquilegia is used to fill forest and park areas with bright colors.
This plant has both shade-tolerant varieties and varieties that prefer to grow in illuminated areas. For growing under the crowns of trees, an anemone oak (anemone) is most often used. It grows well without the attention of a gardener, grows rapidly, forming extensive flowering arrays.
Numerous varieties (more than 40) of this crop can reach a height of 15 cm to 2 m. They grow well not only in shaded areas, but also in waterlogged areas. Astilba is characterized by long flowering. Tall varieties vaguely resemble shrubs, but with the onset of autumn cold weather, all of its ground part dies off. But with the onset of heat, the growth buds on the overwintered rhizome start to grow, quickly forming new thickets. It grows both in flower beds and front gardens, and in the shade of trees, as a kind of undergrowth.
Chigir tea (in Altai), Mongolian tea (in Siberia) is a winter-hardy flowering perennial. Its evergreen leaves are cabbage-like, turning purple in autumn. Badan is a flowering plant. It can be used on tree trunks and in flower beds.
A very unpretentious evergreen shade-loving culture that prefers moist soil, but can also tolerate drought. Depending on the composition of the soil, the flowers of the periwinkle can be painted in blue, blue or pink tones. Some specimens may re-bloom in autumn, though not as abundantly as in spring.
One of the most beautiful perennials with a wide range of varieties bred by breeders specifically for growing in the shade and partial shade. The color spectrum of geyhera leaves varies from various shades of green, to red, orange, purple, including gray tones. Thanks to its foliage, the bush looks incredibly impressive. But the plant also blooms, however, its flowers are rarely paid attention to.
As the name of the plant suggests, it has an incredible vitality. Requiring no maintenance, the tenacious, in the most difficult growing conditions, quickly occupies the entire area available to it. When cultivated in lighted areas, its leaves are variegated, but in the shade they acquire a pale green tint.
The frost-resistant moisture-loving culture has both shade-tolerant and light-loving varieties. For example, plantain dronicum prefers lighted areas. Its bright yellow flowers will not only decorate the flower bed, but can also be used to make buds. When planting a dronicum in the shade, it is better not to plant it directly near the trees, where it will be uncomfortable for it.
A perennial unpretentious plant that has not only beautiful carved leaves, but also flowers of the original form, for which it is also called a "broken heart". The more shade on the site, the longer the dicentra pleases with its flowering. The bush can reach a height of 30-150 cm. It likes frequent watering, but does not tolerate stagnant moisture, so it needs well-drained soil. Under favorable conditions, it grows rapidly, occupying large areas.
Outwardly, the plant resembles strawberries, only her flowers are not white, but yellow. After the end of flowering, a red round berry is formed, which can stay on the peduncle for quite a long time. But you shouldn't eat it. It is not poisonous, but completely tasteless.
A very unpretentious plant, it feels equally good in sunny clearings and in the shade. But still, best of all for the bell, accustomed to living in the forest, on the mountain slopes, areas in the shade of the spreading crowns of large trees are suitable.
If the mountain species of this perennial feel great under the scorching sun, then bluebells, whose natural habitat, for which woodland is, prefer shade or partial shade. They are suitable for creating flower beds, rabatok, but they look especially impressive in large arrays under the canopy of large trees.
The most beautiful perennial from the category of decorative deciduous. Prefers soil with a high limestone content. It looks especially decorative against the background of a group of large trees. Poisonous!
These two plants are closely related. They behave equally aggressively in the flowerbed, quickly pushing their neighbors out of it. They love shady, secluded corners. But if the height of the lily of the valley does not exceed 15-20 cm, then the bought bushes can grow up to 1.5 m in height.
The capricious, graceful cuff is very exacting to leaving. But under favorable growing conditions, it can quickly spread throughout the garden.
This is an amazing plant that blooms in winter or early spring. Its small white-greenish-pink flowers give the snow-covered thickets an incredibly showy look. It can be grown both as a single bush and in groups, creating unusual garden compositions.
One of the perennial primroses that do not require careful care. But the primrose should be watered in a timely manner, it does not tolerate drought. In the southern regions of our country, where the sun is bright, burning, it behaves like a shade-tolerant plant. But the further north the growing region, the more sun it needs.
One of the oldest plants on our planet that inhabited it since the time of the dinosaurs, when the climate was warm, humid, and the trees were very tall. Since then, the fern has become accustomed to "live" in the shade, where the soil is moist and there is little sun. It will serve as an excellent element of the landscape of the site, stretched along the fence, on the north side of the building, under the canopy of trees.
It is one of the most common shade-tolerant crops and is most often planted in shady areas. Several varieties of this plant are known, differing in the color of the leaves. If the varieties, the color of which is dominated by blue, bluish shades, perfectly tolerate the absence of sunlight, and bright rays can even cause sunburn, then white, yellow hostas also feel good in illuminated areas.
Another distinguishing characteristic is the size. Miniature varieties can be below 10 cm, and giant varieties can be above 1 m. The undersized ones have no peduncle, but in tall ones, large, lily-like flowers (white, purple, purple, lilac) are located on rather high thick (hollow inside) pedicels.
The cultures discussed above represent a far from complete list of perennials that are not demanding on sunlight. Combine them with each other, for example, a very fern will serve as an excellent background for the hosta, on which it will look especially impressive.
Things to know (Q&A)
What flowering perennials do well in the shade?
Some perennial flowers will thrive in areas with low sunlight and come back every year. Astilbes are some of the easiest perennials to grow and will open their plume-like flowers in partial shade . They'll even grow in full shade, although you won't get as many flowers. Hostas are also a good choice for shady spot
What plants do well in heavy shade?
10 Great Plants for Shade
Heuchera (Coral Bells)
Lamium Maculatum (Dead Nettle)
Tiarella cordifolia (Foamflower)
Pulmonaria (Lungwort)
Astilbe.
Digitalis (Foxglove)
Hakonechloa (Japanese forest grass)
Primula (Primrose)
What plants do well in shade and heat?
Related Items
1 Hosta. One of the most tried-and-true shade plants, hostas are low-maintenance with hundreds of varieties to choose from. ...
2 Lungwort. Another shade-loving plant that tolerates dry soil is lungwort. ...
3 Bleeding Heart. ...
4 Coralbells. ...
5 Hardy Ferns. ...
6 Ajuga. ...
7 Bigroot Geranium. ...
8 Cushion Spurge.
What flowers dont need sunlight?
25 Shade-Loving Plants for Where the Sun Don't Shine
Hydrangeas. istockphoto.com. ...
Chaenomeles. istockphoto.com. ...
Lady Ferns. istockphoto.com. ...
Bleeding Hearts. istockphoto.com. ...
Dogwood. istockphoto.com. ...
Begonias. burpee.com. ...
Dutchman's Pipe. istockphoto.com. ...
Impatiens. burpee.com.
What flowers do best in shaded areas?
Best shade flowers – Perennials
Astilbe.
Bee balm.
Bellflowers.
Bleeding-Heart.
Forget-me-not.
Foxglove.
Hellebore.
Hydrangea.
What is the most hardy perennial flower?
Best Hardy Perennial Flowers
Coreopsis (full sun preferred)
Black-eyed Susans (full sun preferred)
Clematis (full to partial sun)
Daylily (full to partial shade)
Peony (full to partial sun)
Dianthus (at least 6 hours of sun)
Lavender (full sun, dry conditions)
Phlox (full to partial sun)
What is the most shade tolerant plant?
10 Great Plants for Shade
Heuchera (Coral Bells)
Lamium Maculatum (Dead Nettle)
Tiarella cordifolia (Foamflower)
Pulmonaria (Lungwort)
Astilbe.
Digitalis (Foxglove)
Hakonechloa (Japanese forest grass)
Primula (Primrose)
•
What plants grow fast in the shade?
8 Fast-Growing Plants to Add Shade and Privacy
Lucky Bamboo.
Arborvitae.
Skip Laurel.
Clematis.
Climbing Roses.
Boxwood.
Privet.
Japanese Holly.
What will grow tall in the shade?
Tall perennials for shade
| Common name | Scientific name | Height |
| --- | --- | --- |
| Big leaf ligularia | Ligularia dentata | 48 inches |
| Leopard plant | Ligularia przewalskii | 48-72 inches |
| Bleeding heart | Dicentra spectabilis | 24-36 inches |
| Bowman's root | Gillenia trifoliata | 24-36 inches |
What plant can withstand the most heat?
7 Heat-Tolerant Plants that Love the Sun
Lantana.
Lemon Verbena.
Cosmos.
Marigold.
Geranium.
Salvia.
Sedum.
What plants are good in shaded area?
We recommend 20 of the best plants for shade, below.
Stinking iris, Iris foetidissima.
Wood spurge, Euphorbia amygdaloides var. robbiae.
Snowdrop, Galanthus nivalis.
Winter aconites, Eranthis hyemalis.
Bellflower, Campanula.
Foxglove, Digitalis purpurea.
Granny's bonnet, Aquilegia.
Bleeding heart, Lamprocapnos spectabilis.
•
What plants can live in hot places?
So check out the top 10 list of the most perfect plants for your landscape in hot weather:
Cactus. When it comes to warm weather plants, the Cactus is an obvious choice. ...
Salvia. ...
Sunflowers. ...
Yucca. ...
Dahlia. ...
Aloe Vera. ...
Geraniums. ...
Bougainvillea.
What flower needs the least amount of sun?
These 25 sensational shade plant species thrive without much light.
Hydrangeas. istockphoto.com. ...
Chaenomeles. istockphoto.com. ...
Lady Ferns. istockphoto.com. ...
Bleeding Hearts. istockphoto.com. ...
Dogwood. istockphoto.com. ...
Begonias. burpee.com. ...
Dutchman's Pipe. istockphoto.com. ...
Impatiens. burpee.com.
What plants can grow without sunlight?
5 Indoor Plants that Grow Without Sunlight
Chinese evergreen (Aglaonema) Chinese evergreen is a durable plant that tolerates a fair amount of neglect. ...
Cast iron plant (Aspidistra elatior) ...
ZZ plant (Zamioculcas) ...
Monstera (Monstera deliciosa) ...
Lucky bamboo (Dracaena sanderiana)