On household plots in Russian villages and villages, one could often see a lush tall shrub, abundantly covered with large lilac, pink, white, red flowers. The plant attracted not only with its beauty, but also with the unpretentiousness of cultivation; without careful care, it bloomed throughout the summer, until late autumn, decorating flower beds and front gardens. In our country, it is known by several names: wild or dog rose, hatma, mallow.
Plant description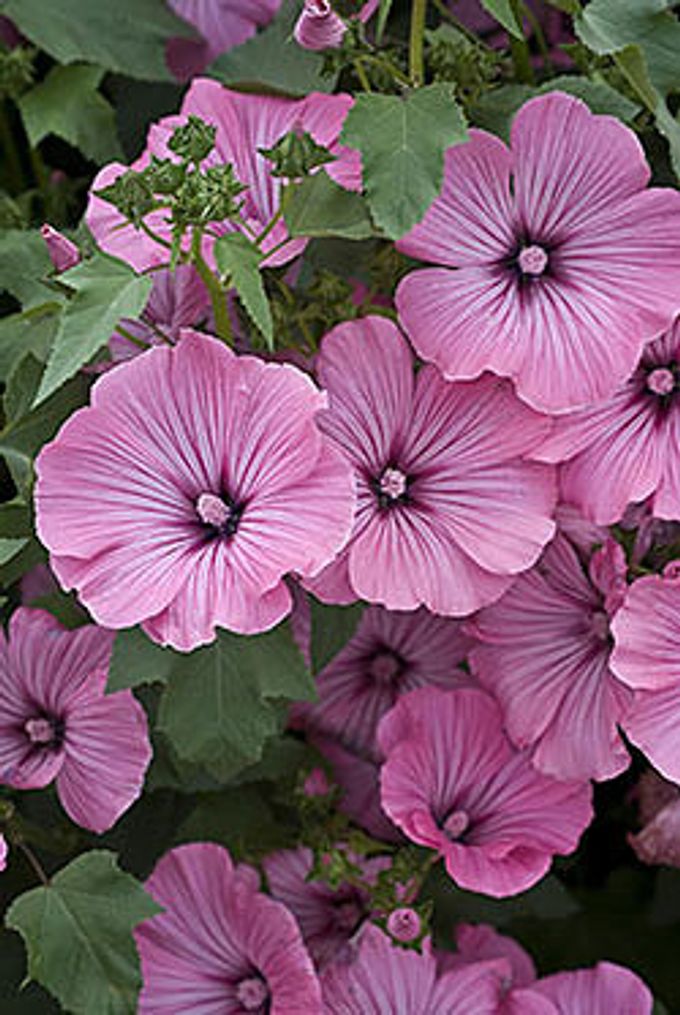 The plant really belongs to the Malvaceae family and has about 25 varieties. Under natural conditions, it can be found in the Mediterranean countries, in Australia, Asia, North America, Mexico, Europe. In the same regions, gardeners also grow cultivated varieties of lavatera. This is the name given to the plant by Carl Linnaeus. Thus, he wanted to perpetuate in the memory of people the names of two brothers, scientists from Switzerland, Heinrich and Jacob Lavater (17th century), who were not only natural scientists, but also engaged in medical practice.
In recent years, lavater has been undeservedly forgotten by our summer residents, gardeners, landscapers. But recently its popularity is starting to grow again. Drought- and cold-resistant, unpretentious care wild rose grows very quickly. In gardens, near fences, on the lawn, it will become an original decoration, both as a single element and in combination with other flowers: irises, verbena, petunias.
Khatma is represented by both annuals and biennials, perennials that have a herbaceous, shrubby, tree-like form.
It has a powerful, branched root system, capable of holding strong, straight shoots in an upright position, reaching a height of 50-60 cm to 1-1.2 m, some of the varieties grow even up to 3 m. Thick, highly branched stems are brown, sometimes with a greenish tint.
Beautiful dark emerald leaves grow in an alternate or spiral pattern. Below, they usually have a heart-shaped or slightly elongated shape. At the top - 3, 5-lobed. The surface of the leaf plates has a slight pubescence of fine soft hairs.
In the first days of summer, the flowering period of the plant begins, which continues until late autumn, almost until the very frost. At this time, it becomes clear why it is called a wild rose.
In the leaf axils, on the tops of the shoots on small or long, in the upper part of the stems, pedicels, single buds or collected in spike-shaped, racemose inflorescences are formed. Gaining strength, they gradually open up. Several leaves fused at the base form subcups, and the corolla itself, 4-12 cm in diameter, funnel-shaped forms overlapping petals: red, yellow, raspberry, crimson, white, lilac, burgundy, and so on.
Not bright, but pleasant aroma attracts bees and other insects that pollinate flowers. After pollination, small one-seeded fruits are formed in place of the flower, arranged in a circle. After maturation, they do not open. If the gardener does not intend to collect seeds from the lavater, then it is better to remove the petals at the very beginning of wilting. This not only increases the decorativeness of the shrub and promotes the formation of new buds, but also prevents the development of diseases. If it rains or gets water on them during irrigation, they form a slimy, sticky substance, which, falling on the leaves, leaves burnt areas on them. When ripe, the seeds fall to the ground, endure the winter cold, and in the spring they germinate, forming new thickets of khatma.
Cultivation
The unpretentiousness of the lavatera is evidenced by the fact that it still grows singly, in large or small groups along roadsides, in fields in many regions, including in arid regions. Seeds for outdoor cultivation can be collected independently or purchased in a store from a trusted manufacturer. Planting can be carried out directly in the ground or grow seedlings. In any case, sunny areas are chosen for wild roses, while the composition of the soil is not significant, it is much more important that it be loose, nutritious. Therefore, when digging the beds in the soil, you need to add humus, add mineral fertilizers.
Seeds in the ground
Seeds for seedlings
Watering
loosening
top dressing
pruning
Seed collection
Diseases
Wintering
with headache;
with indigestion;
with aching muscles and joints;
with gynecological diseases;
with gastritis;
in inflammatory processes.
In early spring (in March-April, depending on the region of the country), a not deep, about 1 cm, groove is made on the prepared bed, the soil is moistened, the seeds are laid out, sprinkled with soil mixture and covered with covering material. Watering is not necessary. Soon, after 3-7 days, the first shoots should appear. Seedlings can be planted in other areas. You can get an unusual effect, the original composition can be planted on the lawn in small holes of 5-6 plants at once. In this case, you will get several lush bushes, abundantly dotted with bright flowers - white, pink, lilac.
It is necessary to start growing seedlings at the earliest possible time: in late February - early March. Before flowering, the chatma quickly takes root in a new place. Seeds are sown in containers for germination. After the emergence of seedlings, the seedlings do not dive, they are immediately planted on open ground, as soon as the threat of repeated spring frosts has passed: in the second half - the end of May. Already in early June, 2-2.5 months after planting the seeds, the lavater will begin to bloom.
Plant care
When planting planting material, you need to rely on the khatma variety. Tree plants are planted according to a 20x25 cm pattern so that they do not interfere with each other during the growth process. Tall varieties need support, which is best installed immediately during planting seedlings.
As already mentioned, the wild rose is unpretentious. Its cultivation does not require any special knowledge and even novice gardeners can do it. All that is required is to remove weeds in a timely manner, irrigate, loosen the soil and apply fertilizer.
The dog rose is drought tolerant, but in this case, flowering will not be as abundant. Therefore, in especially dry periods, especially in the southern regions, where not a single summer is complete without drought, it is recommended to pour 2-3 buckets of water under each bush at least once a week. If there is enough rainfall, then watering can be reduced or eliminated altogether.
After watering, it is necessary to carry out a set of measures that prevent the soil surface from drying out and the formation of a crust on it. To do this, the soil is loosened, while destroying the weeds. However, this must be done very carefully so as not to damage the root system, which is not very deep. After the height of the shoots exceeds 1 m, the soil should no longer be loosened. At this time, the option of mulching the soil with peat, shavings becomes optimal.
Some time later (1-2 weeks) after planting seedlings, when they get comfortable in a new place, they need to be fed with a mineral composition, including urea, nitroammophoska. If such preparations have already been introduced into the soil during planting, then this top dressing can be omitted.
With the entry of plants into the period of budding, sodium and potassium sulfate are added under the bushes, having previously dissolved the agent in water. If the leaves become light green in color, fertilize the lavater with a composition containing nitrogen and phosphorus.
To form a bush, pruning is not carried out; it will already be fluffy enough, having a beautiful spectacular shape. But the shoots damaged during weeding or dried up for other reasons must be cut out. In addition, once a week it is recommended to remove the petals of wilted flowers.
After the petals are collected, you need to wait for the fruit to ripen. These are small green boxes that turn brown over time. This, as well as ease of opening, is a sign of their full maturation. The fruits are cut from the bushes, opened, peeled and dried in the shade, but in a well-ventilated place. Well-dried seeds are stored until spring in paper or linen bags.
Khatma is very rarely affected by diseases and pests. The only disease to be fought is rust. It is best to take care of this in advance, spray the plant with a fungicide before flowering occurs. This will prevent damage and will not harm pollinating insects (bees). If the disease still develops, the affected foliage, shoots are carefully cut, collected and burned. When the focus of the disease has captured more than half of the bush, it is best to uproot it so that the infection does not spread to neighboring plants.
Of the biopests, only aphids "attack" the lavater. You can get rid of it with the help of a specialized pesticide or folk remedies, for example, soapy water.
Annual bushes in the fall are simply cut, harvested and burned. For planting at this place in the spring, the site is dug up. Lavatera reproduces well by self-sowing, so in the spring you can find fresh shoots of khatma here, which are left or transplanted to another prepared place.
Perennial varieties are best protected from low winter temperatures. The shoots are carefully bent to the ground so as not to break and carefully tied, and then wrapped with non-woven material (spunbond), spruce branches or fallen leaves.
Use in landscape design
Mallow (lavatera) grows very quickly, while its bushes look quite impressive, especially during the flowering period, especially since it blooms for a very long time. But even in the absence of flowers, her lush greenery looks great against the background of the lawn, because the hatma prefers open sunny places where her bushes grow especially abundantly. One such plant is enough to favorably focus on the most attractive part of the garden.
But you can create a real composition of several bushes with flowers of one or more shades. For example, try to grow a curtain that blooms all summer in a flower bed. Draw a furrow in the form of a circle with a diameter of 1 m and plant seeds or seedlings on it every 15-20 cm. Plant plants at two intersecting diameters with the same frequency.
Dog rose looks great on mixborders, discounts, rockeries, alpine slides in combination with other perennial tall plants: aconites, delphiniums, veronica, lupine. Tall varieties can be used to highlight (separate) individual sections of the garden. Lavatera can be used as a potted plant to decorate balconies, loggias. In this case, it is planted in garden pots, large containers.
But khatma is loved not only by designers, landscapers and gardeners. She also liked the florists, because the bouquets collected from her cut flowers stand without fading for up to 7 days.
Lavater in medicine
It was not for nothing that Linnaeus named the dog rose by the name of the Swiss scientists Lavater. They not only studied nature, but also conducted research on their healing properties, used them to treat various diseases. Khatma also belongs to medicinal plants, however, only Mauritanian (Lavatera mauritanica) and Thuringian (Lavatera thuringiaca) lavatera are used for medical purposes. It is used to prepare drugs that alleviate the condition of patients:
Things to know (Q&A)
Does Lavatera come back every year?
Caring for lavateras

Cut perennial varieties back in autumn and mulch annually with well-rotted manure or compost. The shrubby varieties can cope with a mild frost, but will struggle if the thermometer dips below -5°C. Prune in early spring to encourage flowers on new season's growth.
Is Lavatera fast growing?
The tree mallow, Lavatera maritima, is lovely, fast-growing shrub with evergreen foliage. It's fantastic for providing a long season of flowers, which usually appear in spring and last into autumn.
Is Lavatera a hardy plant?
Lavatera (Clementii) is a pretty dwarf tree mallow, this hardy perennial plant is perfect for the herbaceous border or containers. Producing masses of saucer shaped flowers; which are attractive to bees and butterflies. When established they can be drought tolerant.
Does mallow come back every year?
Planted once, mallow will often reseed itself for a continuous display of blooms year after year .
Is Lavatera cut and come again?
Annual pruning is key for prolific flowering . In the spring, after the last frost and before the new growth starts, cut out all the dead, damaged, and woody stems at the base. Only leave the stems where you can see a new shoot developing, or the stem shows a swelling on the stem from which the new shoot will emerg
Should I cut down my lavatera?
Pruning and training

Shrubs normally pruned hard in the spring such as Buddleja davidii, Cornus alba, and Lavatera, can be cut back by half now, to prevent wind rock and to neaten their appearance .
Where is the best place to plant a Lavatera?
full sun

Where to grow lavatera. Grow lavatera in fertile, well-drained soil in full sun . Make sure it's a sheltered spot out of any cold, drying wind
What is the best time to plant Lavatera?
spring

The most effective way to plant this rose mallow is by planting seeds directly in the garden after the last frost in spring . Lavatera has a long root system, so plant them in a permanent location where they won't require transplanting. Don't plant Lavatera too early, as the plant won't survive fros
Are mallow flowers perennial?
Description of mallow: Mallow is a bushy perennial with stout stems growing to 4 feet. Soft green, fingered leaves and 5-petaled flowers in the leaf axils bloom over a long period. Ease of care: Easy.
Should I cut back my mallow?
Trimming and caring for tree mallow

It is important to prune back short at the beginning of spring to give the plant vigor and avoid it growing too large . Avoid pruning in the fall because this could lead the stump to rot.
Are mallow plants annuals?
there are annual and perennial varieties of Mallow plants. But, they are most often grown as an annual plant . The flower blooms resemble hollyhocks, and are 2 inches across, in pink or white colors. The leaves are heart-shaped.
Is mallow a biennial?
Common mallow is a winter or summer annual or biennial , freely branching at the base, with a prostrate growth habit. It is a low growing weed, with a deep fleshy tap root. The seeds germinate through the summer and broken stems can also root.