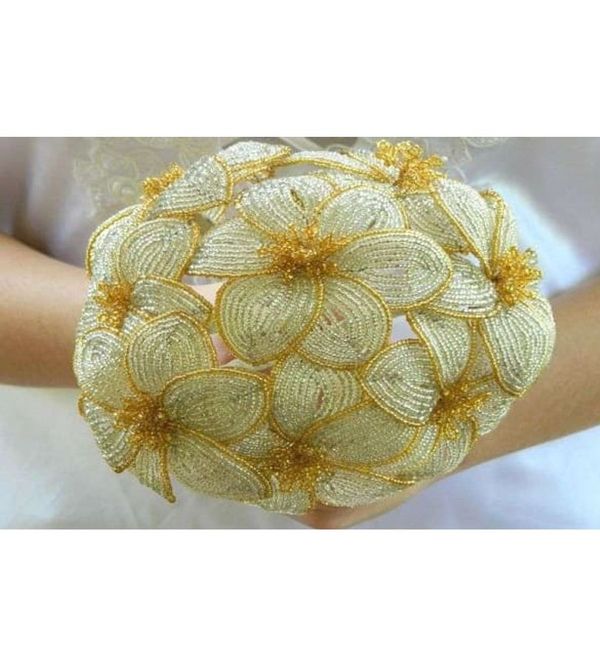 Beading is the most popular type of needlework, which has experienced more than one round of popularity. Today it is a popular art that captivates children and adults, people with art education and those who are far from decorative and applied arts. You will learn about how beading is connected with Ancient Egypt, about all the necessary tools and materials, about various weaving techniques from this review.
Beading history
The predecessors of beads are stones and animal fangs, in which ancient people made holes in order to string them onto ropes. In those days, these decorations were of the nature of a cult, served as amulets and talismans. Nuts and shells, seeds and pods, bones and claws then became the material for making beads. And they wore such jewelry, first of all, men who believed that they would give them strength, masculinity, and protect them from the beast.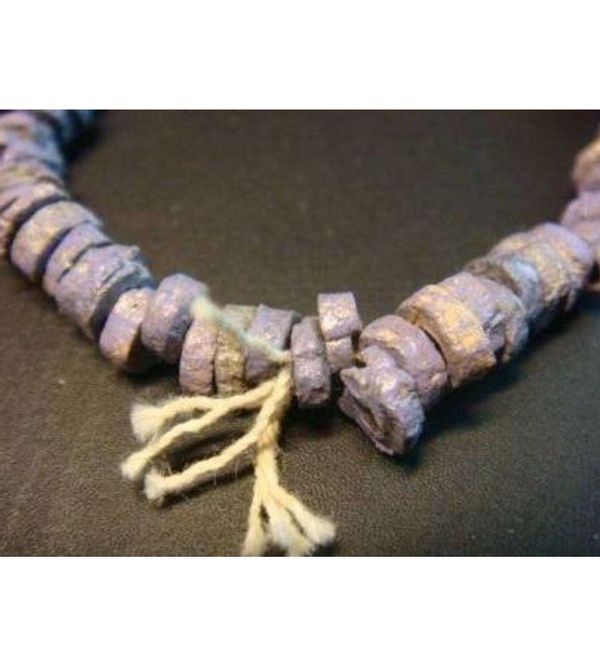 Ancient Egypt is considered the birthplace of beads. The great civilization gave the world material that has been pushing people to new creative achievements for several millennia. Beads appeared thanks to the invention of glass, the first beads made of opaque glass and became a fertile material for making beautiful products. The pharaoh's robes were decorated with glass beads, chic necklaces were made of beads, and dresses were decorated with them.
Soon, beads appeared in Syria, and only then the mighty Roman Empire adopted the experience of these countries. So delicate handicrafts gradually swept the whole world. The Chinese even invented a special counting device, on which the beads began to run along wires placed in a wooden frame. This is how the abacus appeared.
It is proved that the ancient Vikings and Celts also mastered the art of beading: they had their own patterns and patterns, made bracelets and beads, decorated clothes with beads. It is interesting that for some peoples, beads even served as a bargaining chip. Archaeologists have established that the nomadic tribes of the Scythians and Sarmatians decorated shoes and clothes with beads, and this was several centuries before our era.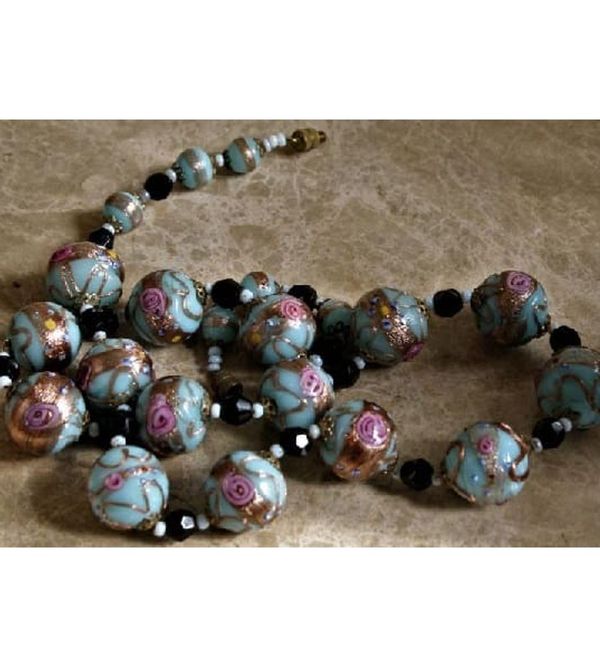 If you name only one place that has become a real world center of beadwork, it will, of course, be Venice. And for a long time it was literally the only center for the production of valuable material, supplying it to the West and East. By the end of the 18th century, the product from the Czech Republic was competing with the Venetian product. Since then, bead making has been developed in many countries of the world. But, by the way, Czech beads are still considered a branded product, although nowadays it has a lot of competitors.
Tools and materials
To make beautiful beads and beads with your own hands, you need to stock up on basic tools and materials. There is no point in buying everything at once. Learn progressively, economically, choosing what is more convenient and more interesting for you to work with.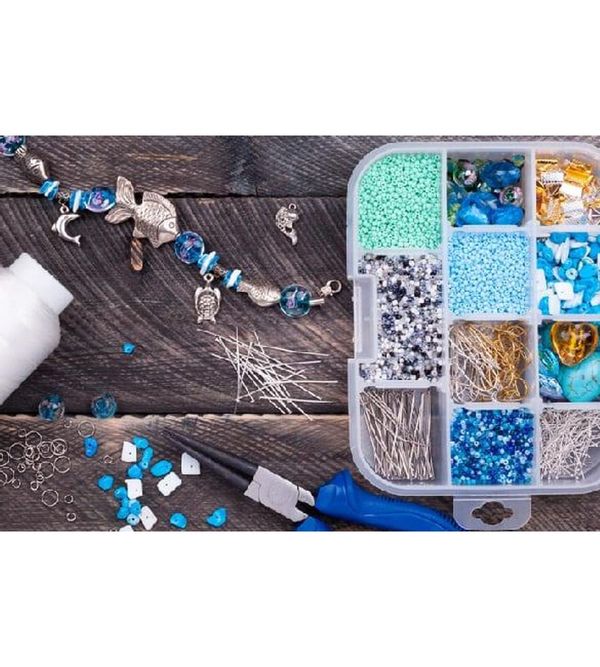 The main materials and tools are the beads themselves, these are the warp (threads and fishing line), these are needles and, possibly, a bead weaving machine. Description of beads is a separate topic, broad and interesting, it is only necessary to say that there are dozens of types of beads. And first you have to learn how to work with its simple types in order to "fill your hand".
Needles
You will need thin needles right away. The thickness of the needle depends on the size, the common numbering starts from 4 to 16, and the lower the number, the thicker the needle will be. If you are using a needle for embroidery with beads, the needle number 12 will be a universal option. If you are working with small material, a needle for jewelry beads (number 10-16) will do. Thick needles 4-10 are suitable for working with large beads.
Threads, fishing line, wire
A needlewoman can use ordinary threads, fishing line, nylon thread or thin wire for crafts. Conveniently, many creative stores today offer special material. If you buy a fishing line specifically for beading, you will be sure that it is a fishing line adapted for creativity, durable and easy to use.
Special lines and monofilaments:
thin, durable and moisture resistant;
have a transparent base that will not be noticeable in the finished product and will not spoil its final appearance;
have a "memory effect";
do not delaminate.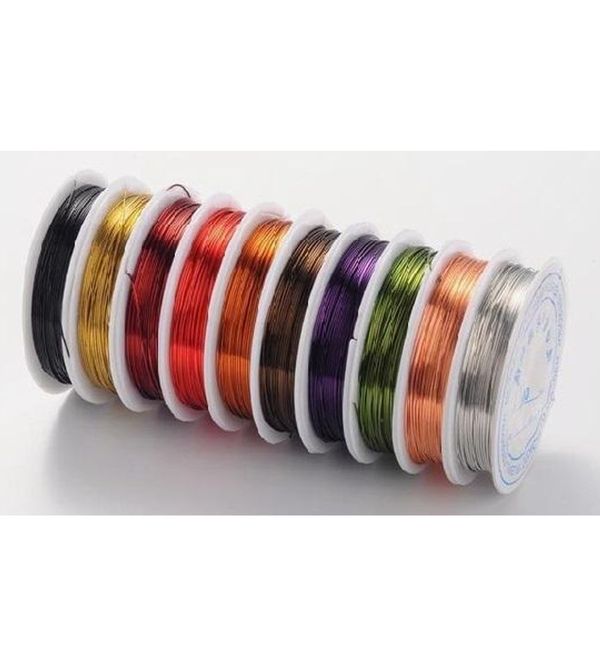 There are also wires on sale that can be used in weaving. They come in different colors, which is convenient if the decoration can expose its frame base.
Fittings
It is almost impossible to weave beautiful beadwork without professional fittings. For example, if you are making a pendant, it will not be practical without a clasp. And the fasteners are different, these are round spring locks, and carabiners, and Cartier locks, and toggles, and box locks. They not only help jewelry to be durable and complete, they decorate it as much as the main material.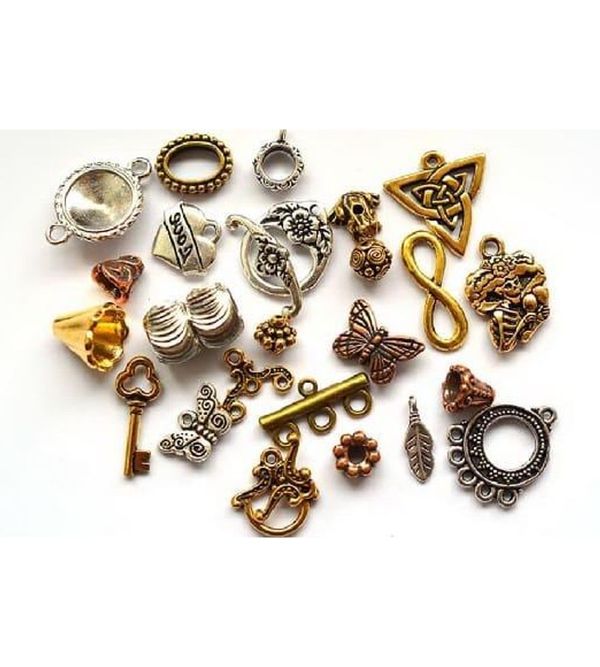 You will probably need a checker-base, without which it is difficult to make a necklace, and various clamps, clips, and crimps, and pendants, and jumpers, and pins, and caps. In some cases, beautiful cups for beads are indispensable. And if you decide to make beaded earrings for the bracelet in the kit, you will have to buy blisers, ear wires, ear wires with an English lock, studs and creoles. Of course, accessories are purchased as needed.
Additional tools
First, the most ordinary scissors will come in handy. It must be a sharp, well-sharpened instrument.
Also, the work may come in handy:
round nose pliers;
nippers;
crochet hooks;
pliers;
pencil and ruler.
And a napkin made of dense fabric will also help in creativity, which will hold the falling beads on the working surface. A napkin made of thick linen or velvet will do. It makes no sense to start the creative process by buying all the tools from the list, absolutely everything may not be useful. Usually, the description of the products contains a list of everything that is required for its manufacture.
Machine
Beaded weaving can be hand and machine. Both are usually taught by a master. The machine will not be able to weave balls or decorations for Easter eggs for you, but it is valuable in the manufacture of bracelets and wallets, complex compositions.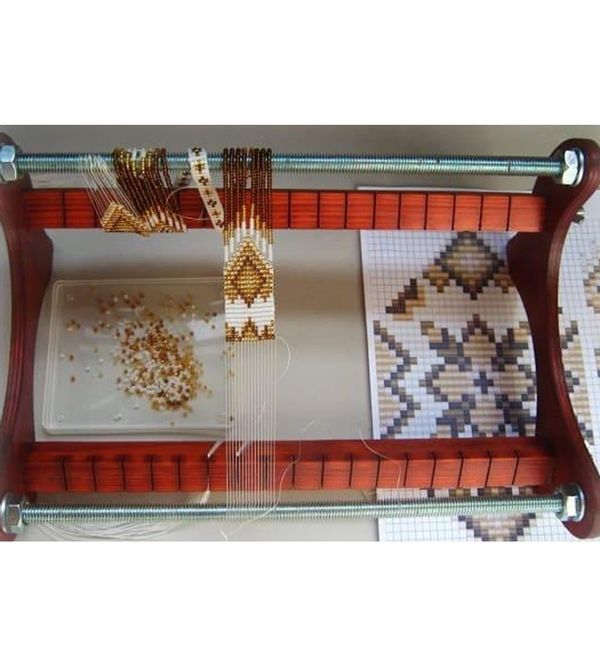 Today, many manufacturers offer ready-made, comfortable looms, which are mainly a wooden frame with studs. But you can reject such an easy way and make the machine yourself. This is real: the simplest machine is made from a cardboard box, the product is more complex - a machine from a plastic container. Finally, you can construct a sturdy semi-professional machine from planks and studs.
Beading techniques
Bead weaving techniques are numerous, but some of them are the most popular and interesting ones, allowing you to create beautiful things according to competent patterns.
Mosaic
This is the name of the densest weaving method. The beads in it resemble brickwork. You can do this weaving with one needle or two. Mosaic weaving is perfect for round beads, cut and faceted beads. Bracelets, necklaces, belts, brooches are perfect with this technique.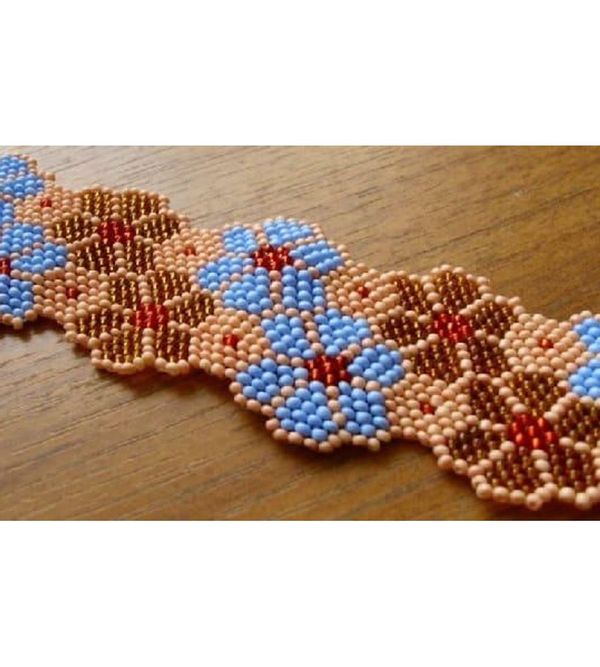 The mosaic technique, in turn, is subdivided into linen weaving, oblique weaving and circular weaving. Products obtained using this technique are considered to be highly durable and medium flexible.
Monastic
This technique involves the use of two needles. You can weave both in width and length. It begins as a chain of "squares", those vertically, with the subsequent increase in width. In this technique, it is the fishing line that is often taken, even fishing is suitable.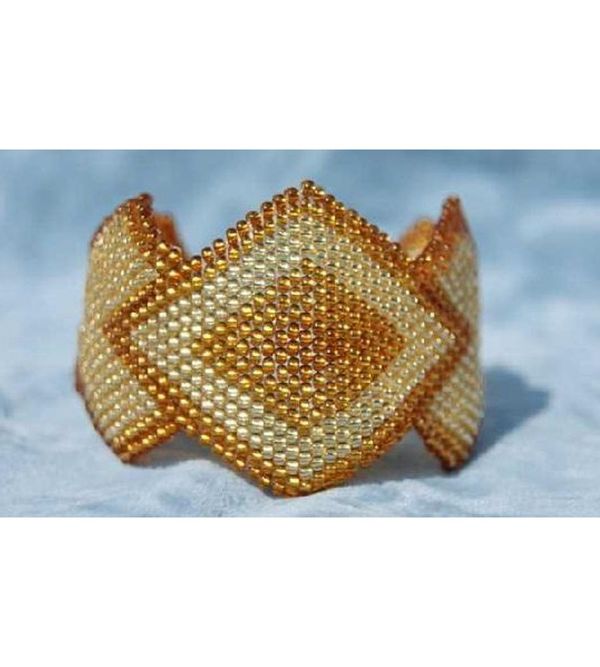 Monastic weaving is used to work on collars, necklaces, pendants, ties, handbags. Using this technique, they perform photo frames, napkins, boxes, vases, book covers, etc.
Brick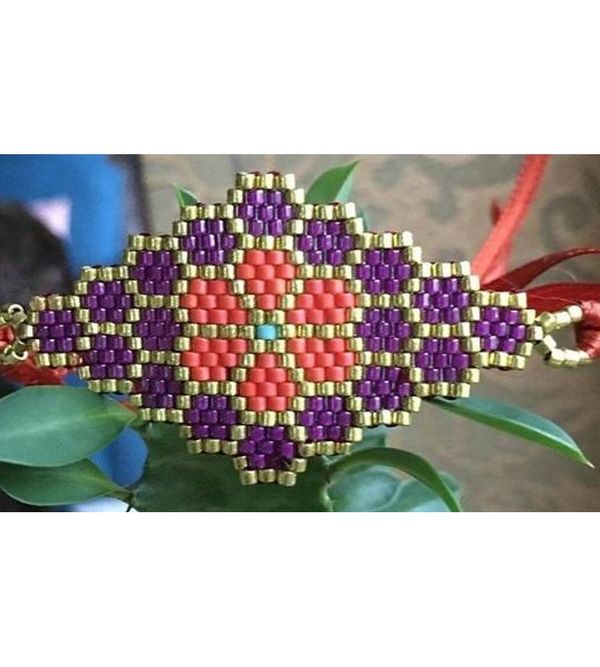 It is very similar to the mosaic technique, but the brick stitch assumes that the beads are arranged in horizontal rows. The mosaic technique is vertical rows. Such products are more flexible, because brick technique is also used for independent weaving, in combination with the same mosaic.
French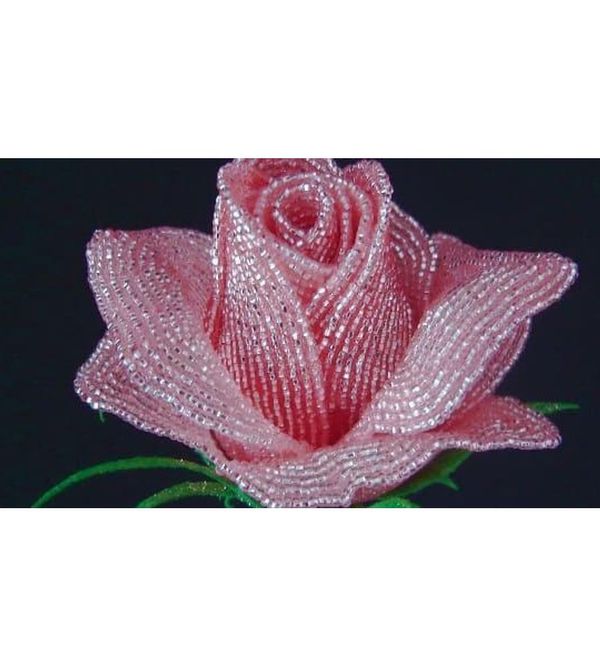 Otherwise, it is called weaving with arcs on a wire. It is actively used in the manufacture of flowers and trees, and this is a popular direction of beading. The French technique allows you to deftly and quickly make leaves and petals of any shape.
Parallel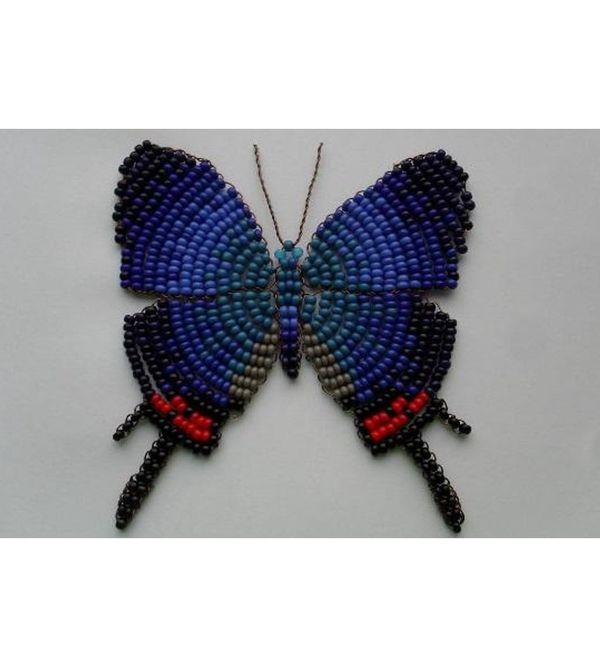 And this weaving is usually done on a wire base. Both ends of the wire are involved, which go in each row towards each other. In this technique, the craftswoman will be comfortable making leaves and petals for flowers and volumetric beaded figures.
Mesh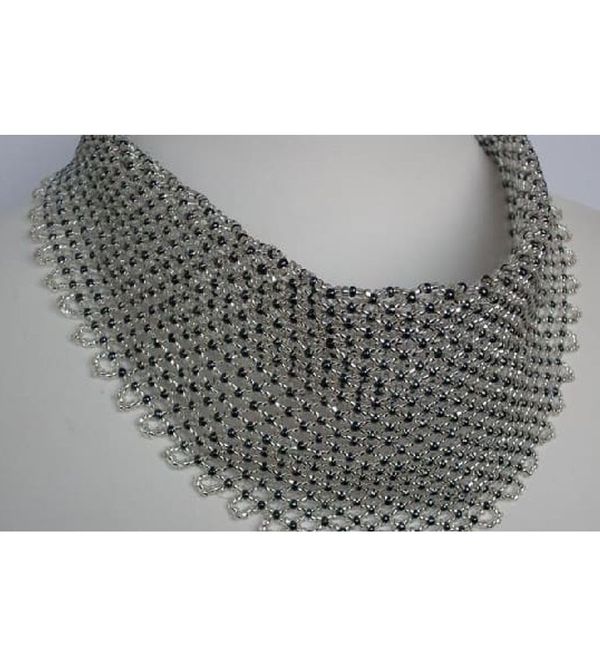 This is the same as the monastic technique (or weaving "in a cross"). The basic element of this type is a cross made of four beads. And in the finished product made in this technique, you can see constantly repeating crosses. The vessels are very beautifully braided in a netting way, they are decorated with Easter eggs, and chic beaded collars are made. Weaving involves the use of one main thread.
Volumetric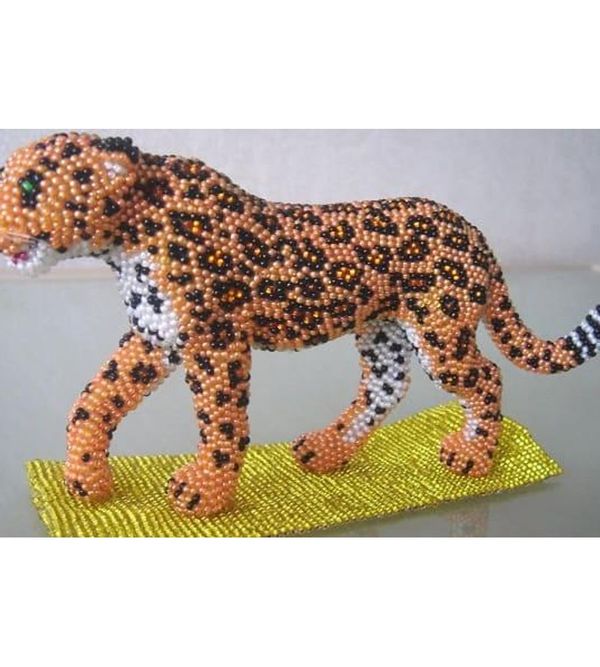 This method resembles a flat parallel weaving, only the beaded rows are located one above the other, and not on the same plane. Both wire and fishing line are suitable for the base. This technique has a very wide scope of application, but more often needlewomen use its capabilities, weaving volumetric animals (for brooches, for example).
Looped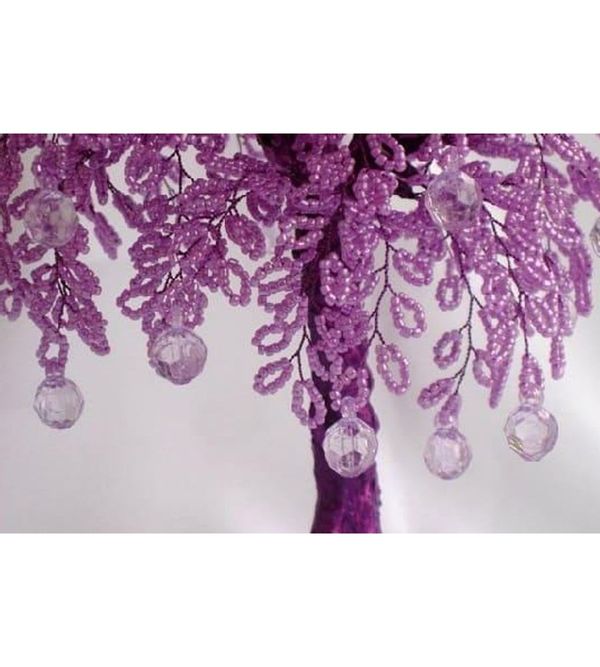 The buttonhole technique is a series of successive loops from the beads themselves. Leaves, stamens and petals are usually woven in this way. Usually craftsmen make loops of the same size, which are staggered. Beautiful branches can be made on one branch. Obviously, this is the most popular way to create fishnet trees from beads.
Needle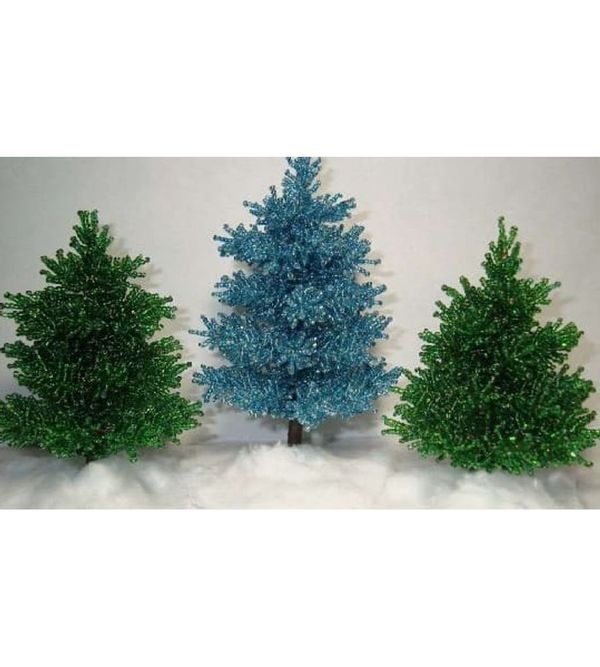 This is an interesting way of connecting beads to each other, which enables the craftswoman to obtain pointed details. These are petals, and beaded needles, and tassels for curtains, for example. But the needle technique is also perfect for making eye-catching earrings.
It is not difficult to learn this method: you need to take 6 beads on a small wire segment, holding the last one with your hand. The tip of the wire is threaded through 5 beads and tightened. It is worth trying and trying, experience is gained only by trial and error, hands should feel the material.
If you doubt that beadwork is the most worthy sphere of creativity, be aware that even the collections of the State Hermitage keep the most valuable, unique beadwork dating from the 18-19th century. And these are real works of art, something about which, without hesitation, you can say "delicate work".
Things to know (Q&A)
What is the history of beading?
History of Beads. Beads have been made of glass for over 5,000 years . The discovery of fire was the essential step in glass bead making. There is evidence as early as 2340-2180 BC in Mesopotamia of a method known as "core-forming" where they used a metal mandrel with pieces of glass held over a flame.
What are the different methods of beading?
The five main ways of working with beads are: Stringing, Wirework, Loom Work, and Off-Loom Bead Weaving , alongside Embroidery, Knitting and Crochet. All are suited to the beginner but you need to choose projects carefully.
What beads are used for beading?
The most commonly used are Miyuki, Toho, Matsuno and Czech (or PRECIOSA) . But you may see others and you may also see unbranded seed beads. The only reason that brand is important is for sizing. Although, seed beads come in standard sizes, think of them like clothes.
Where did bead weaving originate?
The art of making glass beads probably originated in Venice, Italy . In any case, we know that this area had a flourishing industry in the production of beads by the early 14th century. from there the production of beads moved to other parts of Europe, the most notable being Bohemia, France, England, and Holland.
Where did beading originate from?
Beading has a very long artistic and cultural history among the Indigenous people in Canada . At least 8,000 years before Europeans came to Canada, First Nations people were using beads in elaborate designs and for trade. Some beading is done by stringing beads together.
What cultures use beading?
Through my research, I have learned that the art of bead weaving is incredibly rich with history. We have examples of modern bead weaving from all over the world; African, American Indian, Japanese, Chinese, European, etc . Beads have been vital to the communication amongst cultural groups through trade.
Why is beading important to First Nations?
Beads are playing an integral role in repairing cultural ties and spiritual beliefs to Indigenous artists . Beadwork has been, and will continue to be significant in representing Indigenous resiliency as well as highlighting the distinct cultural value of Indigenous peoples.
What is indigenous beading?
Indigenous beadwork often involves meticulous embroidery using colourful glass beads , which were first introduced to North America through European trade. From an archaeological perspective, the importance of beads in Indigenous cultures far predates European contact.
What is Metis beading?
Beadwork. The Métis are heirs to a vibrant culture of decorative arts that emphasizes the brightly coloured floral motif in beadwork and embroidery. The Dakota and the Cree, in fact, referred to the Métis as the "Flower Beadwork People" because of the preponderance of flower designs in their beadwork and embroidery.
What material is used for beading?
Bead Embroidery Backings

The best choice for a bead embroidery backing is some kind of fabric. Ultrasuede and Sensuede are preferred by many professional bead artists, and even a thin piece of natural leather can be used. A good bead embroidery backing will make your piece look professiona
What to buy to start beading?
The basic, must-have tools that any beginner should have to get started creating their very own beautiful jewelry and beading projects include:
Wire Cutters.
Round-Nose Pliers.
Flat-Nose Pliers.
Crimping Pliers.
A Ruler/Tape Measure.
A Bead Organizer.
Adhesive, such as the E-6000.
What cord is used for beading?
Nymo beading thread is a popular bead cord to use for beadwork both on and off loom, and is preferred for seed beads size 12 and smaller. Choose from black and white thread in Size O, a very fine size of beading thread that is commonly used with English beading needles.
Who started beading?
Early Mesopotamians created beads by firing a mixture of powdered clays, silica sand, and soda. These beads, known as faience beads, and their production became popular in Egypt. Faience beads were typically shaped like cylinders or flat discs. Some ancient and medieval beads were regarded as talismans.
Where did bead embroidery originate?
By about 2500 BC, we find from the tombs at Ur in Iraq that remarkable beadwork constructions were created from thousands of very tiny, fairly consistent lapis lazuli beads. There were sewn onto a base to create a covering layer of beadwork and made into a fillet or crown. This piece still exists today.
Where did bead looms originate?
Many of the earliest examples were found Kenya and Turkey . The earliest bead dates are debated between 300,000-100,000 B.C.E. and 43,000-38,000 B.C.E. So old! Early beadwork used thread to attach beads together.