Beading is one of the interesting varieties of needlework. Masters make colorful flat paintings and three-dimensional products that will serve as interior decoration, stylish accessories, and a great gift. The number of passionate fans of this activity is constantly growing. Those who take only the first steps need knowledge about the tools and materials that are used in the process of work, their application and features.
Beadwork and beads
Beading is called stringing on the base (thin thread, fishing line, wire) beads of various types. Naturally, beads become the main material for this lesson.
Beads are small-sized balls made of various materials (today, most often - plastic and glass) with a hole for stringing on the base.
Its main characteristics:
The size
The size of the beads is indicated by its number. In this case, the diameter decreases with increasing number. A total of 8 common sizes are used. Each of them shows how many beads fit on a 1 inch linear segment. So, for beads with number / 0, 1 inch includes only beads, and for 15/0 - 15 pieces.
However, each manufacturer uses its own numbering, which can be three or five digits. It also differs for different countries of origin, for example, for beads made in China or the Czech Republic. In addition, the numbers on the packaging differ from both color and type of coating.
Voice of Matryon's editorial staff Ask a question
Optical properties (color and coating)
Manufacturers offer many varieties of beads that differ in appearance. The material can be transparent or not, with a matte or glossy (shiny) surface. Even for a shiny surface, there are several options, among which the most popular are mother-of-pearl and gasoline gloss, metallic.
More than 300 shades of beads are distinguished in the modern palette. Color the beads on the outer, inner, or both sides. At the same time, beads with a golden or silver inner surface, or with a pronounced contrast between the color outside and inside the beads, look great. Manufacturers assign their own numbers to various color options (internal and external), which can also be seen in the tables.
You should definitely pay attention to quality. It is necessary to check not only the uniformity of the color, but also its durability under various influences.
As a rule, beads have a round shape. However, the craftsmen also use materials of a different form in their work, for example, glass beads.
Bugle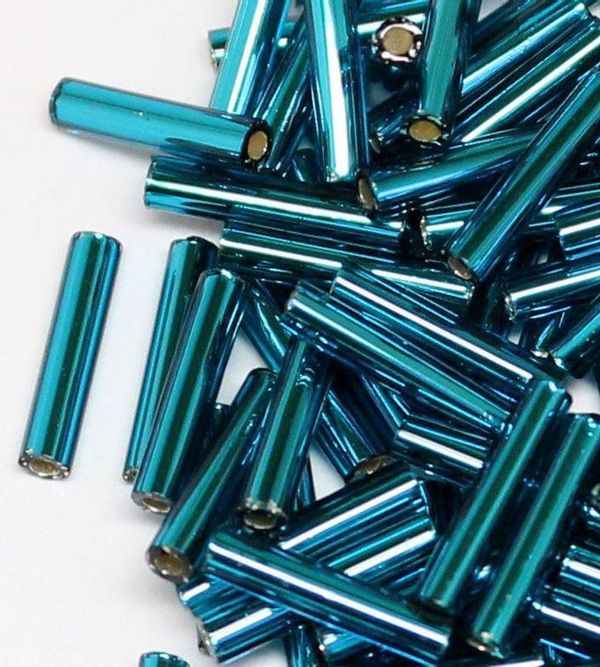 Bugle is a kind of beads in the form of a hollow smooth or faceted cylinder. It is great for both hand and machine weaving.
Bugle looks original, it is a smooth, homogeneous array, without conspicuous joints between individual beads.
Several types of bugles are produced:
smooth, without edges on the surface;
faceted with straight edges;
faceted with twisted edges.
Voice of Matryon's editorial staff Ask a question
In addition to the beads themselves, other similar materials are used when weaving.
Beads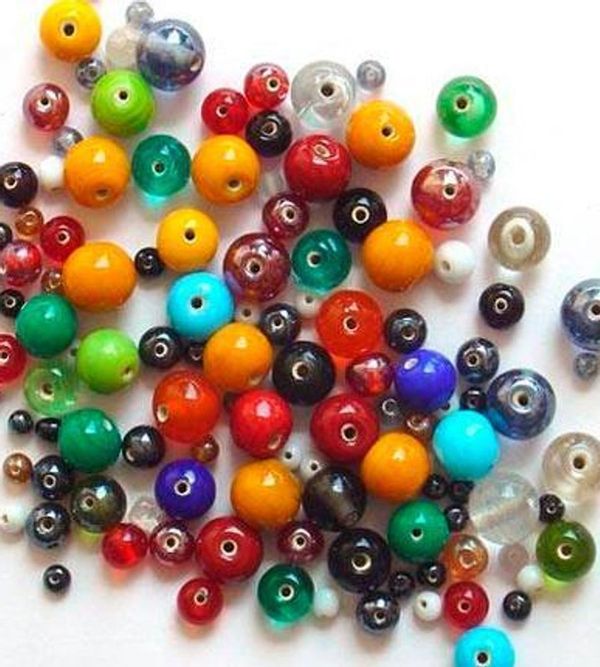 The most common combination when weaving is beads and beads. The latter differ from beads in large sizes and a wide variety of shapes. For those who are fond of weaving, we offer a wide selection of raw materials (from plastic and glass to semi-precious and ornamental stones) and colors. When choosing, it is also worth paying attention to the diameter of the hole of the bead in order to ensure the uniformity of the weaving.
Crimp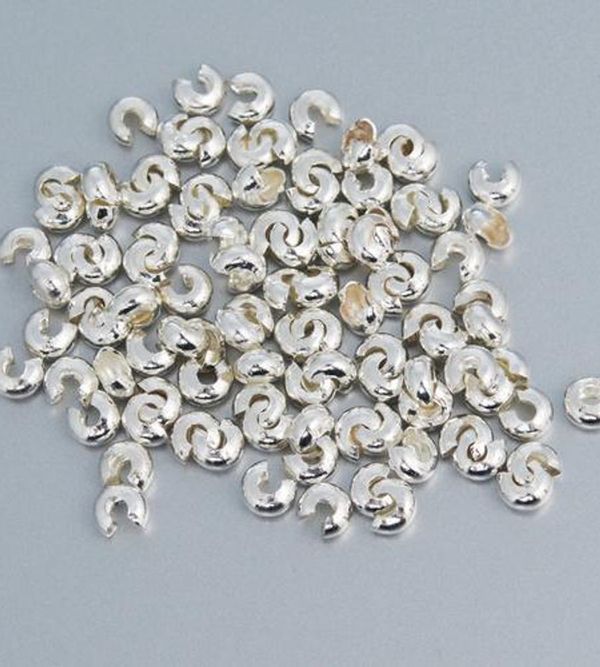 This name was given to special beads-clamps, the purpose of which is to fix the ends of weaving and individual parts at a given distance. Crimp also differs in shape (cylindrical and round), dimensions (outer diameter, inner diameter, length for cylindrical), materials (plastic, metal), coating, color and other parameters.
Base material
In beading for beginners, it is important not only to choose the right base material, but also to choose the right base, which will allow you to work comfortably and ensure reliability and shape retention for the finished product.
A thread
In beading, threads are used that are somewhat different from sewing threads. First of all, they are smoother and have increased strength.
Many craftsmen consider nylon thread to be the best option. It is elastic and soft, the material is much stronger than most natural materials, such as wool, linen or silk.
In addition, it is desirable to choose the thread by color, so that it turns out to be the same tone as the beads.
When it is necessary to give products other properties, for example, volume and rigidity, other bases are used instead of a thread, such as wire, fishing line, etc.
Wire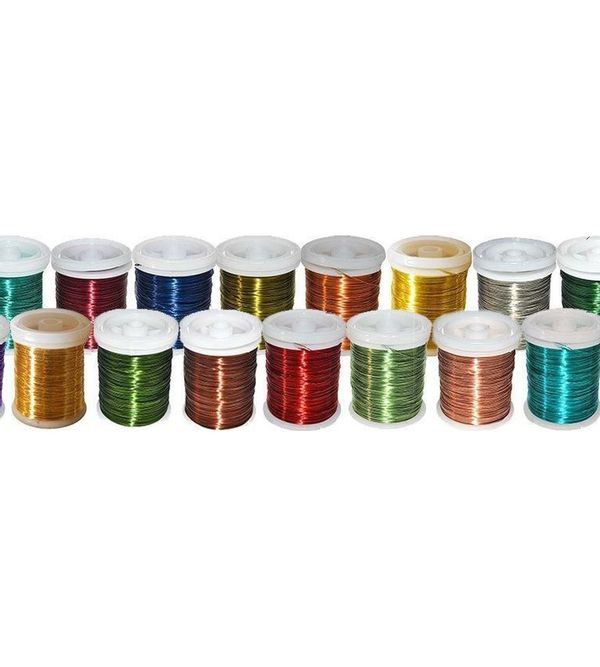 Wires made of copper, brass, bronze, aluminum, steel are suitable for weaving. Depending on the material and thickness, a distinction is made between soft wires (for example, aluminum and copper) and hard wires (great for bulk structures where shape retention is important).
Editorial voice Matryona Ask a question
For comfortable work, the diameter of the wire should be two to three times smaller than the inner diameter of the beads (beads).
Fishing line
It is believed that fishing line is also suitable for beading, but it is better to use special ones with special properties of polymer material. They may differ in mechanical strength, but at the same time be less elastic, which allows you to keep the shape of the finished product.
The diameter is chosen in the same way as the wire - the outer diameter of the base is 2-3 times less than the inner diameter of the beads.
Elastic thread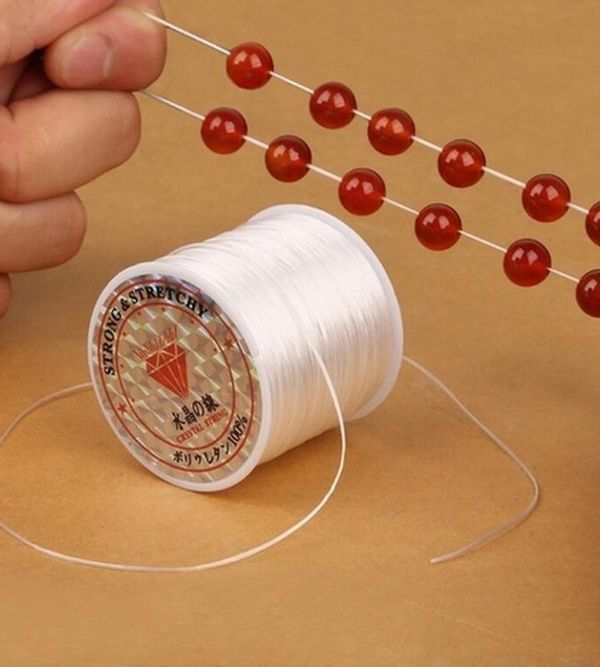 This is often called a rubber thread - a durable thin rubber band in a decorative and / or protective sheath. Its main application is the manufacture of products for which short-term deformations (changes in shape and size) are normal. An example is beaded bracelets without a lock, which are constantly deformed when worn.
Monofilament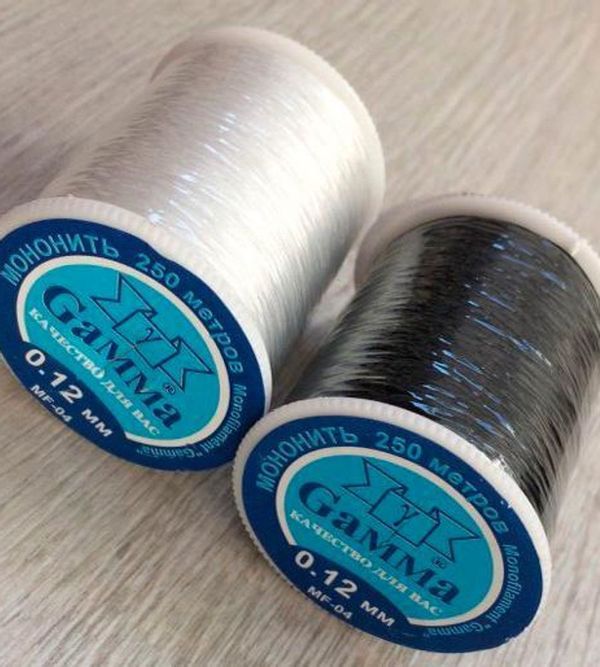 As a rule, a monofilament is a thin thread made of polymeric materials, which is characterized by high strength with a small diameter. One of its main features is almost complete invisibility. It is widely used in weaving from beads with maximum numbers (from very small beads).
Spandex
This name was given to an elastic rubber thread without an outer sheath.
Textile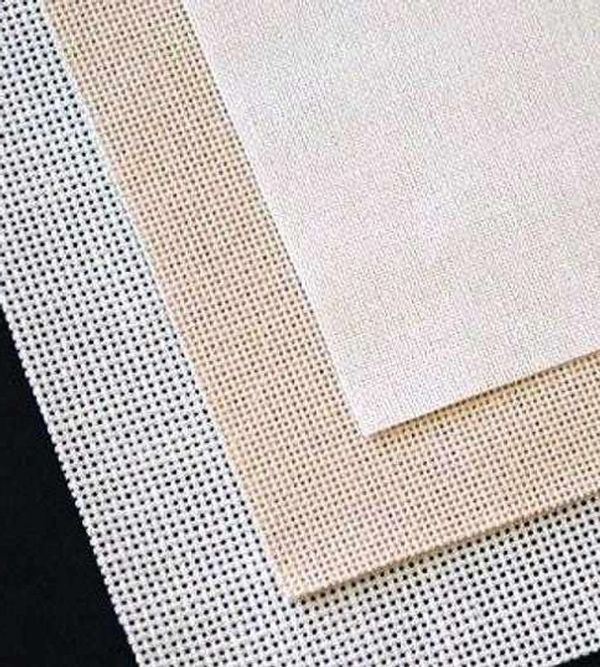 Fabric is a special type of warp used for beadwork.
Specific requirements are imposed on it - the material should not:
wrinkle;
get dirty;
deform under the weight of the beads.
A good option for embroidery is canvas.
For high-quality fabric tension, a special device is used - a hoop. It is best if they have the ability to install on their own stand or fasten to the table - this will free both hands of the master.
Accessories
In order for the product to get a finished look and be convenient to use, accessories are needed. It includes parts made of metal or plastic, designed to connect individual fragments, fasteners, pendants, etc. In addition, it can also perform decorative functions, giving the product an original look. For this purpose, rhinestones, buttons, laces and brushes, and other accessories are used.
Hugger
(hat)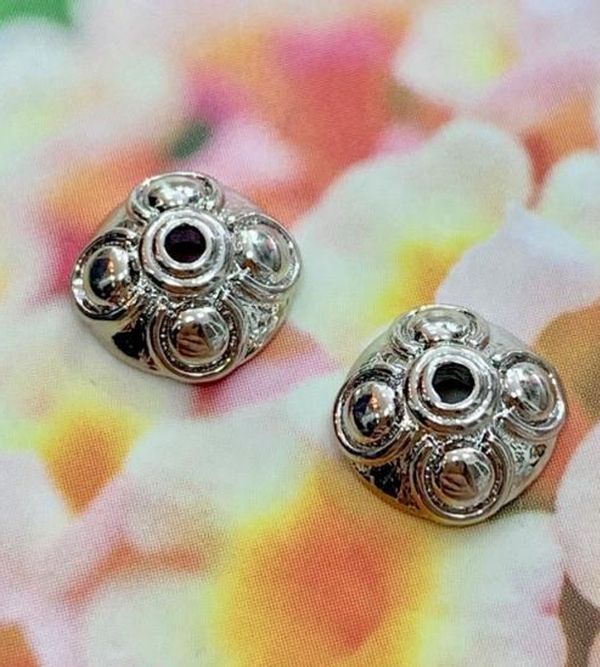 It is used when it is necessary to visually separate the beads. They are a kind of bowl that "hugs" the part, for which they received such a name. They are strung together with a bead on a thread on one or both sides.
Connecting rings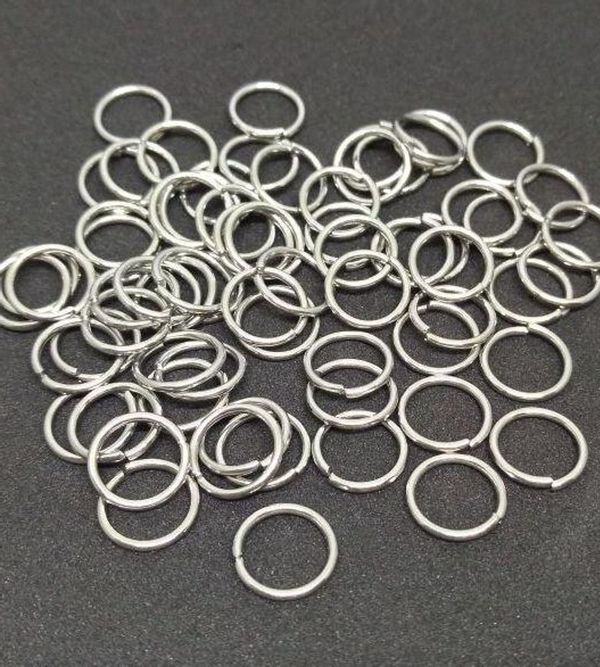 They serve to interface individual parts of the product, help protect the base from chafing. They can be performed in various versions - single (solid and opening), double, with several twists, etc.
Connector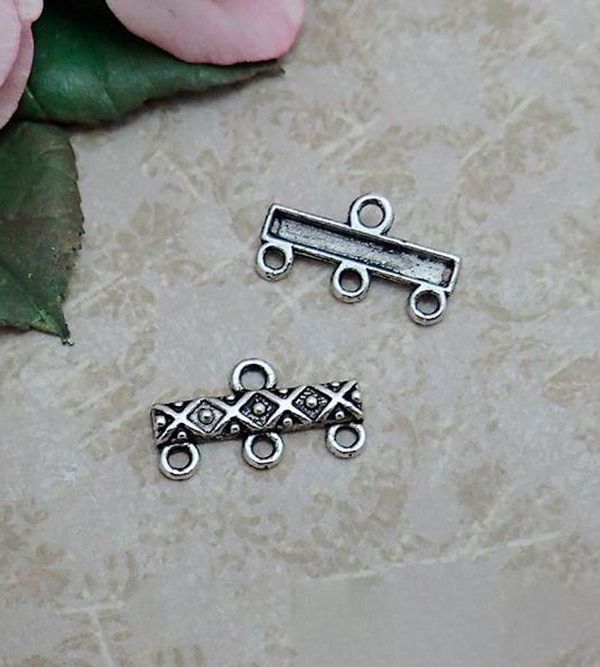 It is, as a rule, a metal product of the original form, which includes several connecting rings. Used to connect a set of parts when creating complex products.
Carbine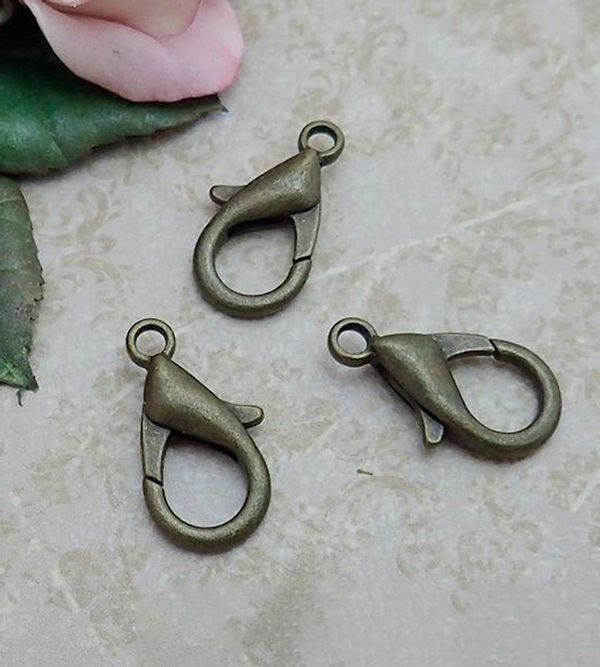 It is used as a lock for beaded necklaces, less often for bracelets. It is conveniently fastened and unfastened due to the presence of a spring-loaded fastener on one side and a ring in the counterpart.
Chain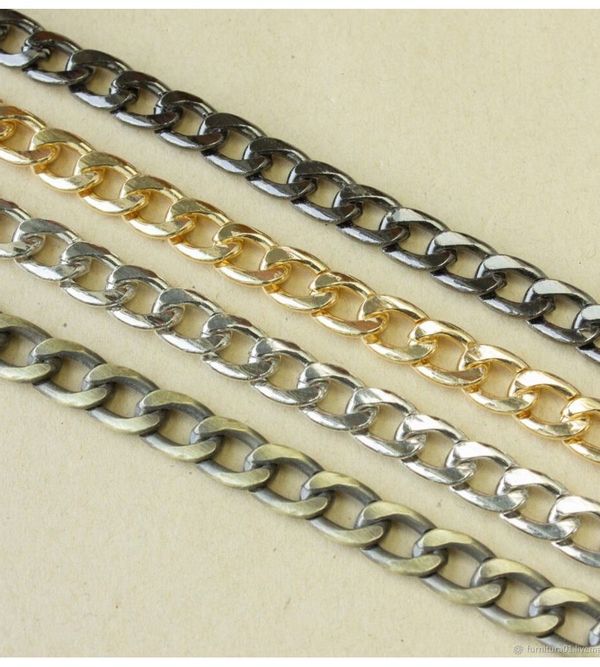 If necessary, adjust the size of the product is attached to its end. At the same time, it can also be introduced into the composition, acting as a fragment separator.
Spacer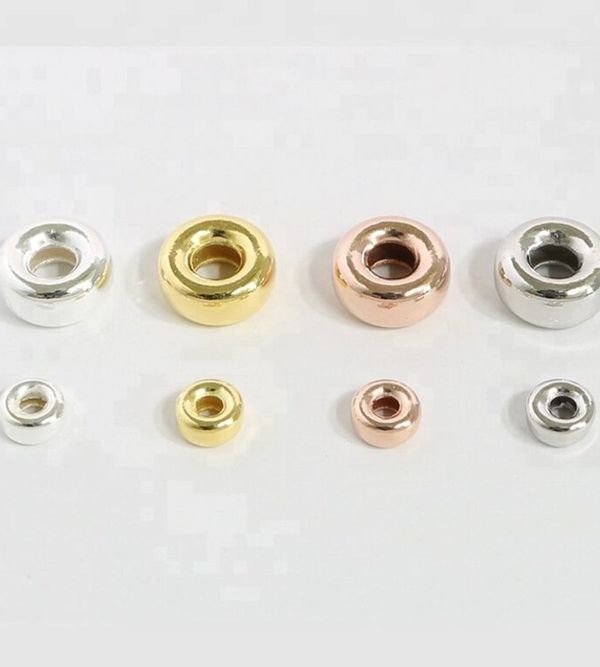 A spacer (separator) is used to visually separate product fragments when creating complex patterns and compositions.
Pin
This is the name of a small carnation (pin) with a head in the form of a hat or ball, designed to fix the bead.
Editorial voice Matryona Ask a question
Tool
For comfortable work and high-quality weaving, not only materials play a role, but also a set of convenient tools and equipment.
Tweezers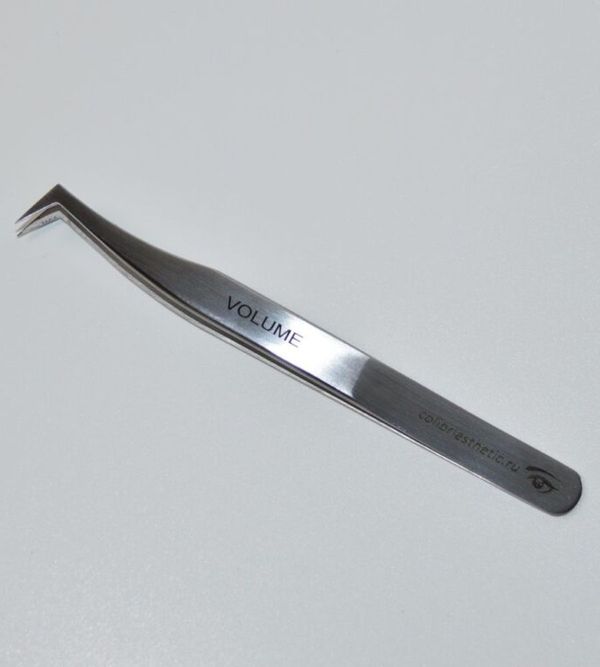 Another indispensable tool that is used both for stringing beads, and for correcting the location of beads, and for working with a thin thread. Small beads are hard to take with your hands and put in place, so you need tweezers. Professional models are offered in specialized stores, but beginners may well get by with ordinary cosmetic or medical ones.
Distaff (spinner)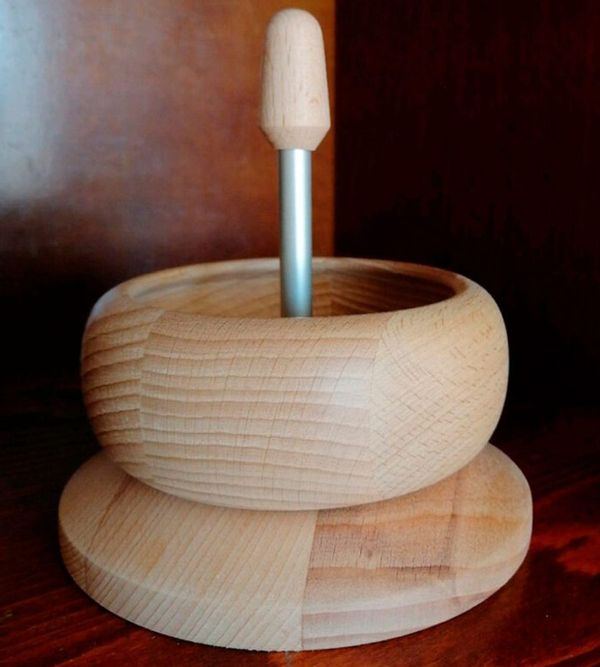 This tool is great for creating beaded flowers and other arrangements. Electrical and mechanical options, factory-made and self-made products are used. They require some experience with the material (beads), but due to the simplicity of the process they are mastered by beginners very quickly.
Needle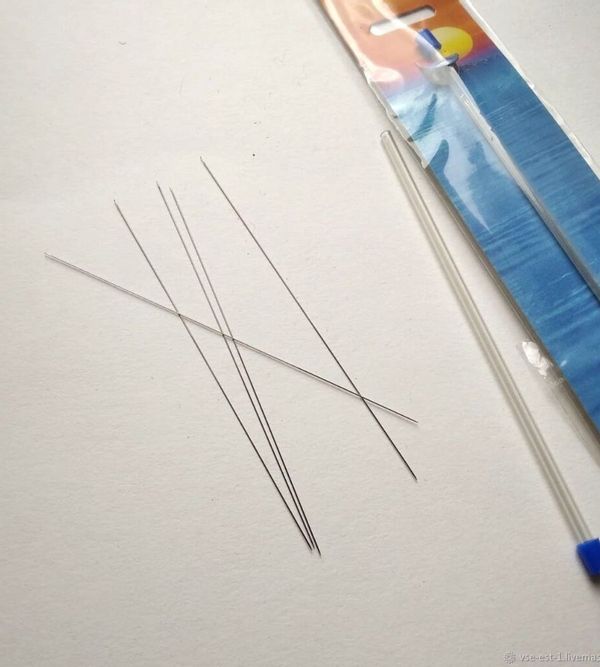 The beading needle is smaller in eye and body diameter than standard sewing and embroidery needles. The choice of needles is quite wide, while the main criterion is the size (number) - the larger it is, the thinner the needle. The most popular needle numbers are 10, 11, 12.
Hook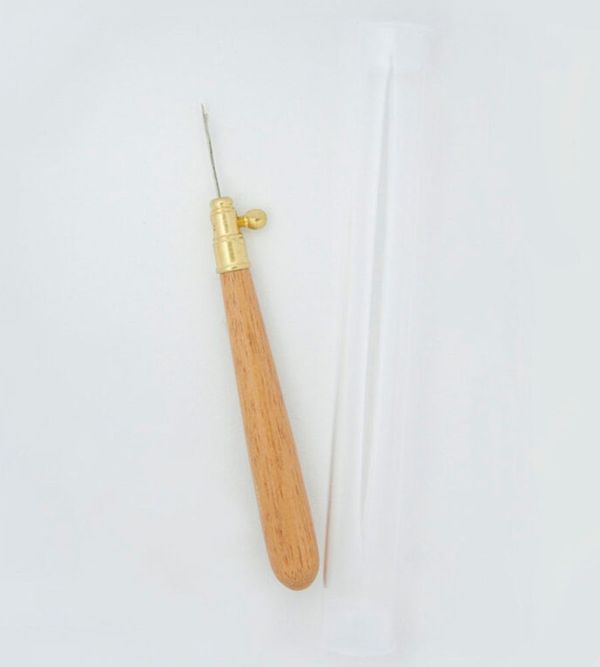 Crocheting from beads is a separate technique that requires the development of special techniques. To work, you will need not one, but a whole set of hooks with different numbers.
Scissors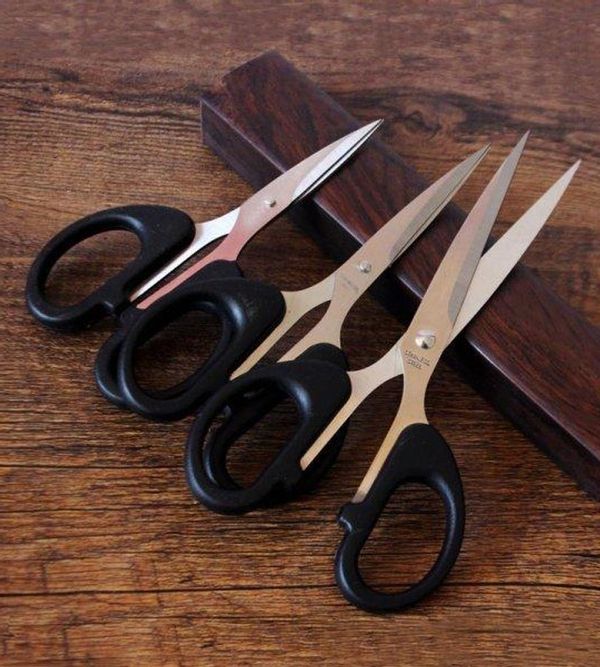 Included in the mandatory set of the master. The main requirements are a clean (not worn out) even cut, which is achieved only with high-quality material and proper sharpening of the cutting edges. Beginners are advised to use both standard scissors and manicure scissors (including those with a curved end).
Machine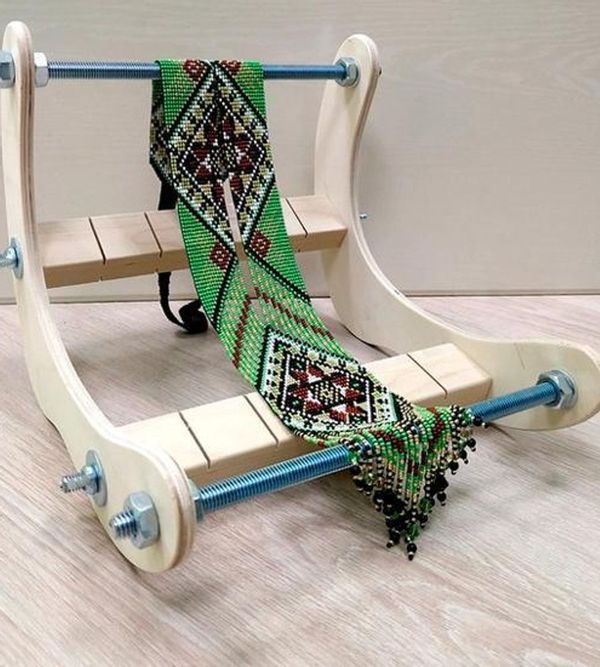 The equipment will be needed to create flat compositions and bracelets. Manufacturers produce many models of wood and plastic, for various sizes of products. They may well be made independently from improvised materials.
Nippers, pliers, round nose pliers
When working with a metal (wire) or polymer base (fishing line) and other accessories, wire cutters, pliers and round nose pliers are useful. The main criterion for choosing a tool is ease of use and the correspondence of the dimensions of the working edges to the scale of the product.
Questions and answers
You can use silicone transparent jewelry line or transparent monofilament.
The appearance of glass and plastic beads is almost identical, but plastic is easier to handle and does not lose color, due to the fact that it is already made of fully colored plastic.
Glass beads are a good choice for high-quality long-term jewelry, however, it is worth remembering that it is quite difficult for a beginner to work with them and their price will be correspondingly higher. Plastic beads are a good solution for beginners.
A calibrated bead is a bead in which all the beads are of the same size and volume.
No, not necessarily, but such a box allows you to always keep several types of beads on hand. This is convenient because you do not need to get the beads out of the packing bag every time.
Video Beading Tips for Beginners
Things to know (Q&A)
What supplies do you need to start beading?
5 Beading Essentials Every Beader Should Own
Hand-held Tools. The main tools that are very useful for beading and jewelry-making in general are round-nose pliers, flat-nose pliers and wire cutters. ...
Wire, Cord and Thread. ...
Bead Findings. ...
Bead Storage. ...
Bead Board.
What supplies do you need to make beaded bracelets?
A basic emergency supply kit could include the following recommended items:
Water (one gallon per person per day for several days, for drinking and sanitation)
Food (at least a three-day supply of non-perishable food)
Battery-powered or hand crank radio and a NOAA Weather Radio with tone alert.
Flashlight.
First aid kit.
What instrument is used for beading?
Chain Nose Pliers

Critical as a beading tool! Two chain nose pliers are handy when opening and closing sterling silver jump rings. When opening and closing a jump ring you do not pull the jump ring ends apart, instead, you twist them open and closed.
What tools are used for beading?
Top 10 Beading Tools
Chain-nose pliers. Of all the beading tools on my worktable, I think the chain-nose pliers are my favorite. ...
Round-nose pliers. ...
Crimping pliers. ...
Flush cutters. ...
Wire cutters. ...
Sharp embroidery scissors. ...
Fiskars kitchen scissors. ...
Thread burner.
What do I need for beadwork?
A bead mat is usually a 14-inch square but when you make it yourself you can cut it the size you need. The best is to buy a bead mat tray. A pair of chain-nose pliers and Flat nose pliers (Needle Nose or Chain Nose Pliers) and wire cutters are the most essential things when working with beading wire.
What tools do I need to make beaded bracelets?
The 5 Must-Have Beading Tools
Nipper Tool. Every beader knows a nipper tool is the most important tool to have. ...
Round Nose Pliers. ...
Memory Wire Shears. ...
Chain Nose Pliers. ...
Tweezers.
What material is used for beading?
Bead Embroidery Backings

The best choice for a bead embroidery backing is some kind of fabric. Ultrasuede and Sensuede are preferred by many professional bead artists, and even a thin piece of natural leather can be used. A good bead embroidery backing will make your piece look professional.